<< Back to MOTIFvations Blog Home Page
Meet Our Experts | Akanksha Singh-Taylor, Ph.D., R&D Scientist at Active Motif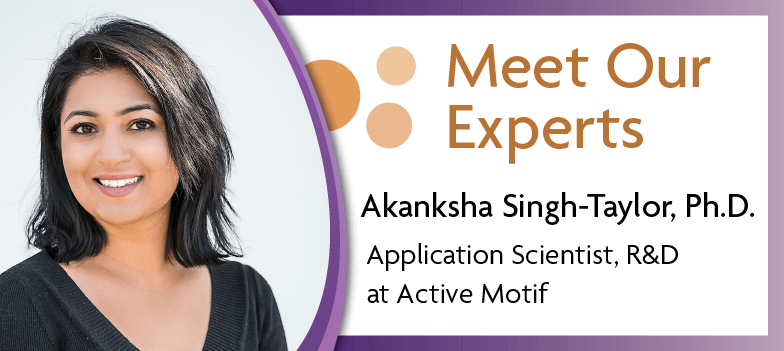 May 12, 2020
Active Motif is a company built by scientists, for scientists. We have developed a lot of innovative technologies, products, and services over the past two decades, but what makes us special is our people.
Our team of experts have created a culture and environment that fosters continued innovation on a foundational philosophy that "good science is good business."
We are excited to offer a behind-the-scenes glimpse into the careers and mindsets of some of our epigenetics experts. These MOTIFers are solving complex challenges, navigating evolving research opportunities in epigenetics, and pushing the field forward.
Make sure to follow us on LinkedIn, Facebook, and Twitter to continue meeting our team of experts that are unraveling the epigenome.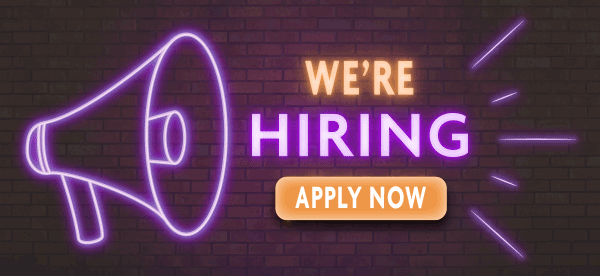 Active Motif: Hi Akanksha! Thanks for helping us share a glimpse behind the scenes at Active Motif with our "Meet Our Experts" series. Your talent and experiences are remarkable, and we feel you can help inspire the science community. Please start by telling us what you do at Active Motif, in your own words.
Akanksha Singh-Taylor, Ph.D.: Thanks for having me, I am always thrilled to discuss epigenetics! I'm an Application Scientist with the R&D team at Active Motif. I generate disease-relevant data using liquid biopsies and tissues to demonstrate how Active Motif's technologies can be combined to generate complete workflow solutions that can facilitate epigenetics-based novel biomarker discovery across various diseases and conditions.
AM: How long have you been working at Active Motif?
AST: Four years. I started at Active Motif as a Technical Support Scientist, helping researchers all over the world troubleshoot issues with their experiments. My desire to return to research led me back to the lab in my current role with the R&D team.
AM: What were you doing before you joined Active Motif?
AST: I was a postdoctoral researcher at the University of California, Irvine in the Tallie Z. Baram's lab, exploring epigenetic mechanisms underlying changes in specific neural networks as a result of early life experiences. My research focused on trying to understand how these changes contributed to altered cognitive and emotional regulation in adulthood.
AM: What surprised you the most thus far working at Active Motif?
AST: I am impressed by the spirit of teamwork and collaboration at Active Motif. Although the company is divided into various departments, and smaller groups within those departments, everyone at Active Motif is committed to scientific rigor and quality in our products, services, and bioinformatic pipelines, that ultimately serve the needs of our customers.
AM: What are you up to when the lab coat gets hung up?
AST: I like running and hiking around the beautiful trails of San Diego. I also love dancing! I have been dancing for most of my life. When I was pretty young I started training in an Indian classical dance form called Kathak, which is known for its fast, intricate footwork, and dizzying array of spins. I now dance on a semi-professional level around Southern California and have had the privilege and blessing to learn and perform under the internationally renowned Master Artists Smt. Anjani Ambegaokar and Smt. Amrapali Ambegaokar.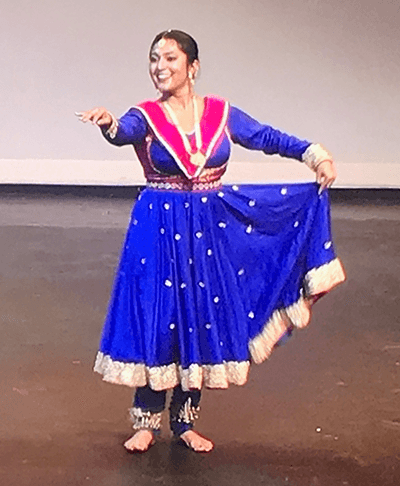 AM: Why epigenetics?
AST: My background is primarily neuroscience – I studied epigenetic mechanisms underlying pediatric brain cancer during my doctoral research at MD Anderson Cancer Center and moved to more traditional neuroscience research for my postdoc at UCI. I am fascinated by how our experience and activities impact our underlying biology, especially our neural circuitry, and epigenetics offers an elegant mechanism by which our environment can introduce these meaningful molecular modifications in our genes, leading to resistance and resilience to disease and cognitive deficits for certain individuals, while susceptibility in others.
AM: What do you feel is the hottest area of epigenetics research right now; any next big discoveries you are excited about?
AST: I think we are still just starting to scratch the surface of examining how epigenetics can help inform precision medicine. Looking at epigenetic signatures in liquid biopsies to potentially inform novel biomarker identification, disease progression, and novel therapeutics is very exciting. It can provide another layer to further fine tune what we already know – disease-relevant epigenetic changes are dynamic and nuanced, which means they may be good indicators of disease presence, progression, and treatment response.

Another exciting research area is the heritability of epigenetic changes. It is an elegant way to pass on experience-based information across generations and can inform how the next generation responds when faced with environmental adversity or safety.

A point that I find fascinating is that epigenetic changes are bidirectional and nuanced depending on the context. In other words, they can be stable and heritable, and impact and prime our response(s) based on the response(s) of the previous generation(s), and they can also be dynamic, and rapidly change based on our own response to the new environmental challenges/conditions.
Epigenetics can provide another layer to further fine tune what we already know – disease-relevant epigenetic changes are dynamic and nuanced, which means they may be good indicators of disease presence, progression, and treatment response.
- Akanksha Singh-Taylor's thoughts on the impact of epigenetics research
AM: What is the best advice you have received in your career so far?
AST: Try your level best in every scenario. Your career path may not be linear, and your current situation may not be ideal, but you are doing yourself and your work an absolute disservice by not giving 100%. Regardless of the situation, let your work speak for itself!
AM: If you could go back in time, what career advice would you give to your childhood self?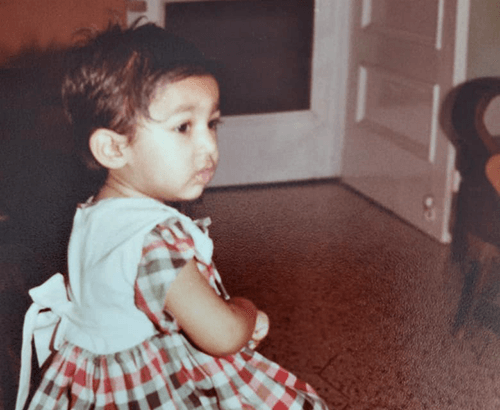 AST: Be open to various opportunities. All scientists pretty much start out in academia, and the non-academic options are not always clear. If you want to proceed in the academic track, that is great! However, I think before you begin and/or throughout your graduate school journey, educate yourself about other options that may be available to you, apply for internships to see how you and your skillset fits in to the corporate world.

As scientists, most of us naturally see ourselves at the bench, but there are so many other avenues if you are so inclined – from Medical Science Liaisons to Field Applications Scientists, from Sales Representatives to Product Managers and Technical Support Scientists, and yes, Bench Scientists too. It's just as important to know what you don't want as it is to know what you do want.
AM: Finally, let's end with a fun question: what's your favorite #AMBandTee?
AST: Histones, it's a classic.
---
A big thanks to Akanksha for sharing all her valuable insights! If you have any questions for Akanksha, please feel free to reach out to her on LinkedIn.
We hope you enjoyed this article and keep checking back so you don't miss an opportunity to meet our experts.
---
We'd love to hear from you! Please contact us at blog@activemotif.com or on Twitter (@activemotif) to share your thoughts and feedback! We're also looking for science writers to contribute to MOTIFvations, so if you're an established science communicator or just want to get started, please reach out – there might be a story we can collaborate on!
<< Back to MOTIFvations Blog Home Page