LightSwitch™ Promoter Control Vectors
validated promoter controls for use in luciferase assays
Because no single promoter can be an ideal control for all experimental conditions, Active Motif offers a panel of positive and negative control constructs for the LightSwitch™ Promoter Reporter Vector. These controls are used to measure background, to optimize experimental conditions and to normalize for non-specific effects associated with a treatment or change in condition. Note that the unique RenSP luciferase technology utilized in the LightSwitch Assay System eliminates the need for co-transfection of a normalizing control in most cases. So, instead of one control construct being co-transfected with every experimental plasmid, different control vectors can be used in your reporter assay experiment, each in its own well, in addition to the constructs being tested. Using the most suitable positive and negative control vectors for your specific experiment will give you the highest degree of confidence in your results.
Information on all LightSwitch Promoter Control Vectors is shown under the Promoter Controls tab below.
IMPORTANT: Because all LightSwitch reporter constructs contain the optimized RenSP luciferase gene, you MUST use our LightSwitch Luciferase Assay Reagents to obtain optimal results. (Other luciferase assay reagents are not compatible with RenSP.)
Empty promoter vector: The empty promoter vector contains the RenSP luciferase reporter gene without a promoter. This construct serves as a measure of background signal in the experiment. This construct may also be used to create additional experimental constructs. For a vector map, annotations and primer & restriction sites, please see the Empty LightSwitch™ Reporter Vectors page.
Housekeeping gene promoter vectors: Housekeeping control constructs contain promoters for common housekeeping genes driving the RenSP luciferase reporter gene. These constructs serve as positive transfection controls and may also serve as controls for comparing signals between conditions if they are known to be unresponsive to the test condition.
Random control promoter vectors: Random control constructs contain 1 kb non-conserved, non-genic, non-repetitive fragments from the human genome cloned upstream of the RenSP luciferase reporter gene. These vectors produce slightly different signals than the empty promoter vector and are considered optimal negative or background controls.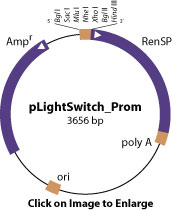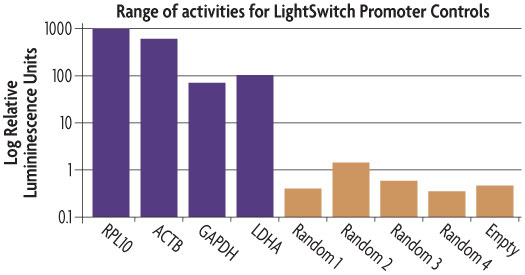 Figure 1: LightSwitch assay performed using the positive and negative LightSwitch Promoter Controls.
Promoters of housekeeping genes (Positive controls)
Catalog No.
Name
Description
Coordinates
Sequence
32003
LightSwitch™ ACTB
Promoter Control
Beta-actin
chr7–:
5343428 - 5344428
Get Info
32004
LightSwitch™ GAPDH
Promoter Control
Glyceraldehyde-3-phosphate
dehydrogenase
chr12+:
6513163 - 6514226
Get Info
32005
LightSwitch™ LDHA
Promoter Control
Lactose dehydrogenase A
chr11+:
18372059 - 18372891
Get Info
32006
LightSwitch™ RPL10
Promoter Control
Ribosomal protein L10
chrX+:
153146645 - 153147658
Get Info
Random genomic fragments in promoter vector (Negative controls)
Catalog No.
Name
Coordinates
Sequence
32007
LightSwitch™ Random
Promoter Control 1
chr11+:
119015626 - 119016592
Get Info
32008
LightSwitch™ Random
Promoter Control 2
chr1+:
226079717 - 226080649
Get Info
32009
LightSwitch™ Random
Promoter Control 3
chr6+:
15604416 - 15605350
Get Info
32010
LightSwitch™ Random
Promoter Control 4
chr16+:
1645930 - 1646850
Get Info