Recombinant HCK protein
Aliases: JTK9, p59Hck, p61Hck, HCK Proto-Oncogene, Src Family Tyrosine Kinase
| | |
| --- | --- |
| 商品コード: 31174 | Format: 10 µg |
Expressed In:
Baculovirus
Protein Species:
Human
Request a quote for a bulk order
---
for Recombinant HCK protein

Contents


This product has been discontinued

10 µg of Recombinant HCK protein in 50 mM Tris-HCl, pH 8.0; 100 mM NaCl, 5 mM DTT, 4 mM reduced glutathione, 20% glycerol.
for Recombinant HCK protein

Application Notes

Recombinant HCK is suitable for kinase assays and Western blot. The molecular weight of the protein is ~86.707 kDa. The activity of the protein is ~ 34 pmol/µg min. Recommended kinase reaction conditions: 60 mM HEPES-NaOH, pH 7.5, 3 mM MgCl2, 3 mM MnCl2, 3 µM Na-orthovanadate, 1.2 mM DTT, ATP (variable), 2.5 µg/50 µl PEG20.000, Substrate: PolyEY 1 µg/50 µl, Recombinant HCK: 200 ng/50 µl. Kinase activity may vary depending on the substrate and reaction conditions used.
for Recombinant HCK protein

Protein Details

Recombinant human HCK protein was produced using baculovirus infected Sf9 cells. The protein was made against amino acids M1-P505, accession number NM_002110 and N-terminally fused to a GST-HIS6-Thrombin cleavage site. Purified by GSH-agarose affinity purification.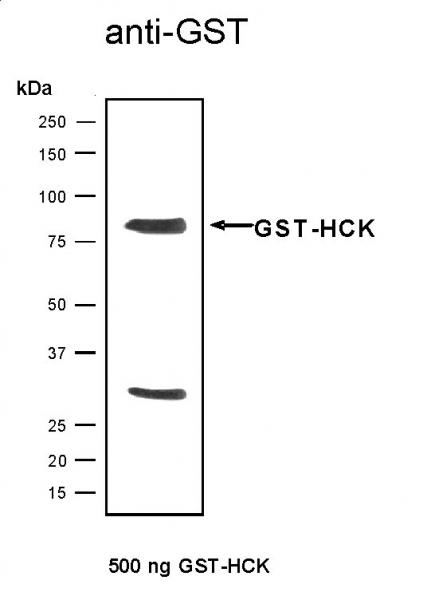 for Recombinant HCK protein

Guarantee

This product is guaranteed for 6 months from date of receipt.

This product is for research use only and is not for use in diagnostic procedures.