Recombinant KAT2A (GCN5) (726-837) protein
Aliases: KAT2A; hGCN5; GCN5L2; PCAF-b
| | | | |
| --- | --- | --- | --- |
| Catalog No: 31371 | Format: 100 µg | ¥74,000 | Buy |
| Catalog No: 31771 | Format: 1 mg | ¥481,000 | Buy |
Expressed In:
E. coli
Protein Species:
Human
Request a quote for a bulk order
---
Contents
Recombinant KAT2A (GCN5) (726-837) protein is supplied in 25 mM Tris pH 8.0, 500 mM NaCl, 20% glycerol. Please refer to product insert upon arrival for lot-specific concentration.
Background
GCN5, also known as K (lysine) acetyltransferase 2A (KAT2A), is a component of the ATAC complex, which is a complex that specifically exerts histone acetyltransferase (HAT) activity on histones H3 and H4. KAT2A (GCN5) acts as a histone acetyltransferase to promote transcriptional activation. In the case of HIV-1 infection, it is recruited by the viral protein TAT and regulates TAT's transactivating activity. In addition, evidence suggests KAT2A (GCN5) may play a role in the induction of chromatin remodeling of proviral genes. KAT2A (GCN5) also functions as a repressor of NFκB by promoting ubiquitination of the NFκB subunit RelA in a HAT-independent manner. KAT2A (GCN5) contains a bromodomain that recognizes acetylated histone lysine residues and functions as a 'reader' of these epigenetic histone marks to regulate chromatin structure and gene expression by linking associated proteins to the recognized acetylated nucleosomal targets.
Application Notes
Recombinant KAT2A (GCN5) (726-837) is suitable for use in binding assays, inhibitor screening, and selectivity profiling.
Protein Details
The peptide corresponding to amino acids 726 - 837 that contains the bromodomain sequences of KAT2A (GCN5) (accession number NM_021078.2) was expressed in E. coli and contains an N-terminal His-Tag and C-terminal FLAG-Tag with an observed molecular weight of 19.4 kDa. It shows binding specificity for acetylated H2AK5, H3K9, H3K14, H3K9/K14, H4K8/K16, H4K16 and H4K5/8/12/16.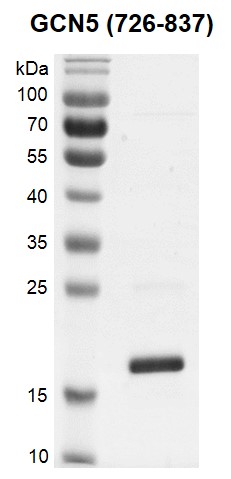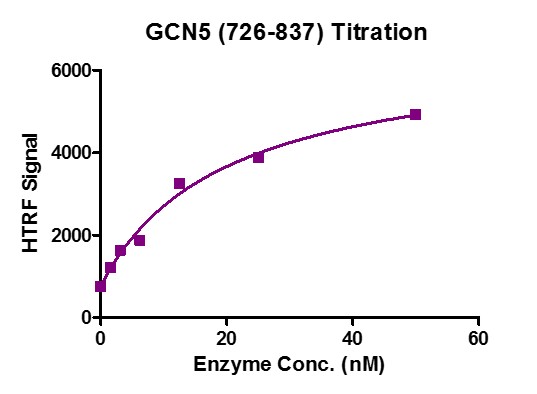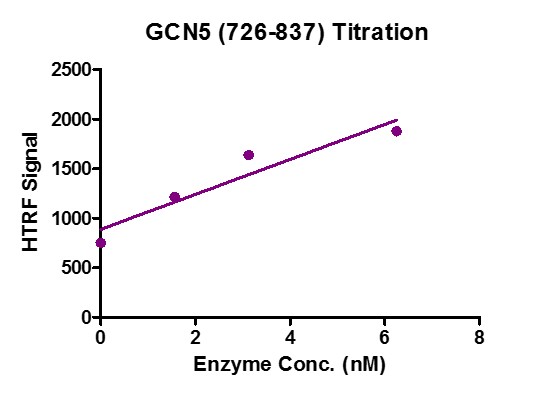 Storage
Recombinant proteins in solution are temperature sensitive and must be stored at -80°C to prevent degradation. Avoid repeated freeze/thaw cycles and keep on ice when not in storage.
Guarantee
This product is guaranteed for 6 months from date of receipt.

This product is for research use only and is not for use in diagnostic procedures.
Technical Data Sheet
Recombinant KAT2A (GCN5) (726-837) protein
Data Thumbnails