Contents
200 µg of HL-60 nuclear extract at 7.72 µg/µl.
Background
HL-60 nuclear extract was prepared from a cell culture of the human promyelocytic leukemia HL-60 cell line. The HL-60 cell line was originally derived from tumor tissue obtained from a 36 year old female patient with acute promyelocytic leukemia. HL-60 cells are primarily neutrophilic myelocyte precursors in morphology and can be induced to differentiate into granulocytic, monocytic, macrophage-like and eosinophil phenotypes depending on the compound treatment. These cells require insulin and transferrin for growth. In research, HL-60 cells are most commonly used to study myeloid differentiation, hematopoiesis, and acute promyelocytic leukemia. Historically, this cell line was used as a model system to study the effect of DNA topoisomerase IIα and IIβ on differentiation and apoptosis of cells.
Application Notes
HL-60 nuclear extract is recommended for use in studies related to 1) myeloid differentiation, 2) hematopoiesis, and 3) acute promyelocytic leukemia.
Extract Origin
Human myeloblastic leukemia (leukocytes)
Extract Composition
HL-60 nuclear extract is supplied in Dilution Buffer (20 mM Hepes (pH 7.9), 100 mM KCl, 1 mM MgCl2, 20% glycerol, 0.5 mM PMSF and 0.5 mM DTT).
Quality Control
Extracts have been quality control tested by Western blot and the Electrophoretic Mobility Shift Assay (EMSA).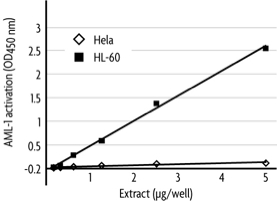 Storage
To ensure stability, extracts should be stored at -80°C.

We recommend aliquoting the extracts into single-use fractions and then storing them at -80°C. This eliminates repeated freeze/thaw cycles.
Guarantee
This product is guaranteed for 6 months from date of receipt.

This product is for research use only and is not for use in diagnostic procedures.
Technical Data Sheet
HL-60 nuclear extract
Data Thumbnails