Recombinant ALKBH6 protein
| | | | |
| --- | --- | --- | --- |
| Catalog No: 81191 | Format: 50 µg | ¥78,000 | Buy |
| Catalog No: 81891 | Format: 1 mg | ¥482,000 | Buy |
Expressed In:
E. coli
Protein Species:
Human
Request a quote for a bulk order
---
Contents
Recombinant ALKBH6 protein is supplied in 25 mM Tris-HCl pH 7.4, 300 mM NaCl, 10% glycerol, 0.5 mM TCEP.
Background
ALKBH6 (Alkylated DNA Repair Protein AlkB Homolog 6), also called as ABH6, is a member of ALKBH family proteins. Gene Ontology (GO) annotations related to this gene include oxidoreductase activity and oxidoreductase activity, acting on paired donors, with incorporation or reduction of molecular oxygen, 2-oxoglutarate as one donor, and incorporation of one atom each of oxygen into both donors. It was reported to be a probable dioxygenase that requires molecular oxygen, alpha-ketoglutarate and iron.
Application Notes
Recombinant ALKBH6 protein is suitable for use in enzyme kinetics, inhibitor screening, and selectivity profiling.
Protein Details
Full length ALKBH6 protein (accession number NP_116267.3) was expressed in E.coli cells with an N-terminal 6xHis-Tag. The molecular weights of ALKBH6 is 32.8 kDa.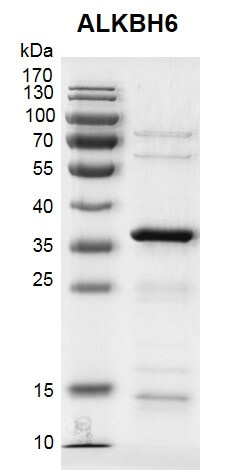 Storage
Recombinant proteins in solution are temperature sensitive and must be stored at -80°C to prevent degradation. Avoid repeated freeze/thaw cycles and keep on ice when not in storage.
Guarantee
This product is for research use only and is not for use in diagnostic procedures. This product is guaranteed for 6 months from date of arrival.
Technical Data Sheet
Recombinant ALKBH6 protein
Data Thumbnails