Functional Genomics - LightSwitch™
Genome in - Function Out
Functional genomics uses genomic data to study gene & protein expression and function on a global scale. Cell-based screening using luciferase reporter assays is a powerful approach for high-throughput gene function discovery as well as drug discovery to assess pathway activity.

Active Motif has taken advantage of the power of reporter assay to develop a complete system specifically optimized for gene regulation experiments. With a genome-wide library of over 30,000 cloned regulatory elements, a highly optimized Renilla luciferase (RenSP) vector system and assay reagents, the LightSwitch™ Luciferase Assay System is the optimal solution for your gene regulation studies.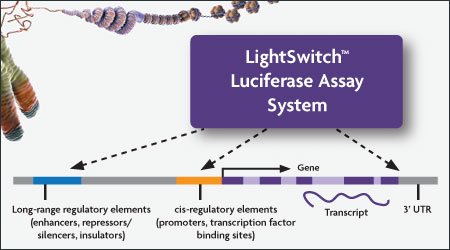 Advantages of the LightSwitch™ System
Endogenous human elements (30k total) = Real Biology
Over 30,000 transfection ready promoters, 3´UTRs, and response elements all in the same vector system .
Simple, fast, complete solution
Eliminate the need for assay development and screen immediately with the pre-cloned vectors and tightly optimized assay reagents and protocols.
Quantitative
The novel RenSP luciferase technology allows you to measure promoter activity with unparalleled sensitivity and dynamic range.
Scalable, flexible format options
Convenient 96 to 1,536-well formats available, use for a small number of samples or thousands of assays in a large screen.