リンパ球(T細胞, B細胞, NK細胞)や単球などの末梢血単核球(Peripheral Blood Mononuclear Cells ; PBMCs)は, 末梢免疫系の重要な構成要素です。PBMCは免疫学および感染症研究にとって重要であるため, これらの細胞からChIPおよびChIP-Seq解析用の高品質なクロマチンを抽出するための確実な手法が必要とされます。アクティブ・モティフ社は, このような難溶性の試料を用いた実験を何年も重ね, PBMCから高品質なクロマチンを得ることができるように, 最適化されたクロマチン調製法の開発に取り組みました。ChIP-IT® PBMC Kitは, 最適化されたバッファーと溶解条件により, PBMCのように扱いの難しい細胞を用いる場合にも, ChIP反応を成功させることができます。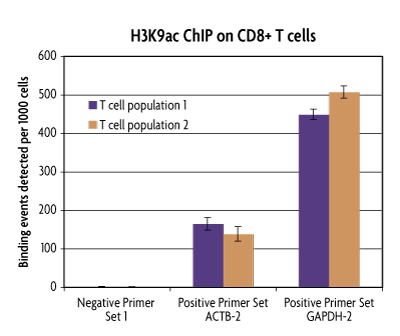 ChIP-IT PBMC data for H3K9ac.
What our customers are saying about us...
"The ChIP-IT PBMC kit works perfectly for chromatin analysis of primary CD14+ monocytes. It is simple to use, with a straight forward protocol and produces incredibly reproducible data with our cell models of cytomegalovirus infection. In our hands, the ChIP-validated antibodies also prove very reliable."
Ian Groves, PhD
Associate Principal Investigator
Department of Medicine
University of Cambridge
ChIP-IT® PBMC の詳細は, 下記の Methodタブ, Dataタブ, もしくは Contentsタブをクリックしてください。マニュアルやカタログ等は, 下記の Documentsタブをクリックしてください。
ChIP-IT® PBMC Advantages
Obtain quality chromatin from PBMCs including T & B lymphocytes, dendritic cells and monocytes
Sensitive enrichment of DNA from nanogram quantities of chromatin
Optimized reagents from our ChIP-IT High Sensitivity Kit improve signal and minimize background
Filtration based washes offer a faster, easier solution with better consistency than magnetic capture
Highly robust procedure has been validated in both qPCR and ChIP-Seq
Active Motif also offers products compatible with ChIP-IT® PBMC:
In addition, our Epigenetic Services can perform ChIP, ChIP-Seq and many other genome-wide data generation and analysis services for you.
| Name | Format | Cat No. | Price | |
| --- | --- | --- | --- | --- |
| ChIP-IT® PBMC | 16 rxns | 53042 | ¥98,000 | Buy |
| ChIP-IT® qPCR Analysis Kit | 10 rxns | 53029 | ¥23,000 | Buy |
| High Sensitivity Chromatin Preparation | 16 rxns | 53046 | ¥48,000 | Buy |
How does ChIP-IT® PBMC work?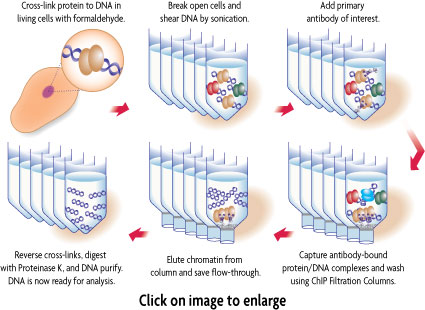 Figure 1: Schematic of chromatin immunoprecipitation using ChIP-IT PBMC.
ChIP-IT® PBMC
The ChIP-IT® PBMC Kit is specially formulated to perform ChIP from PBMCs, including lymphocytes (T cells, B cells and NK cells), monocytes and dendritic cells. ChIP-IT PBMC offers a complete solution for chromatin immunoprecipitation including specialized reagents and protocols to enable extraction of high quality chromatin from PBMCs and integrated components and protocols for ChIP and DNA purification from our highly popular ChIP-IT High Sensitivity® Kit to reduce background and minimize sample loss for improved sensitivity and consistency.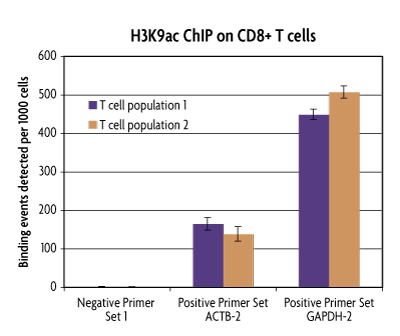 Figure 1: ChIP-IT PBMC data using chromatin extracted from CD8+ selected T cells showing H3K9ac enrichment at specific loci.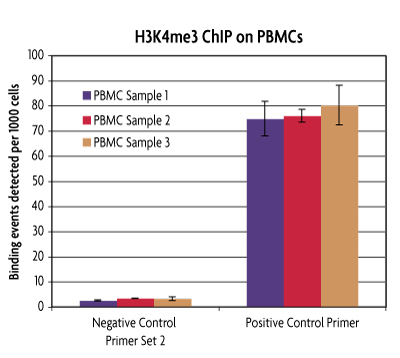 Figure 2: ChIP-IT PBMC utilizes the immunoprecipitation protocol from the ChIP-IT High Sensitivity Kit for improved sensitivity and reproducibility.
---
ChIP-Seq Validation of ChIP-IT PBMC enriched DNA
The ChIP'd DNA obtained from the ChIP-IT PBMC Kit is of high quality and can be used in downstream applications such as ChIP-Seq or ChIP-chip. Active Motif has validated ChIP-IT PBMC for ChIP-Seq as shown below.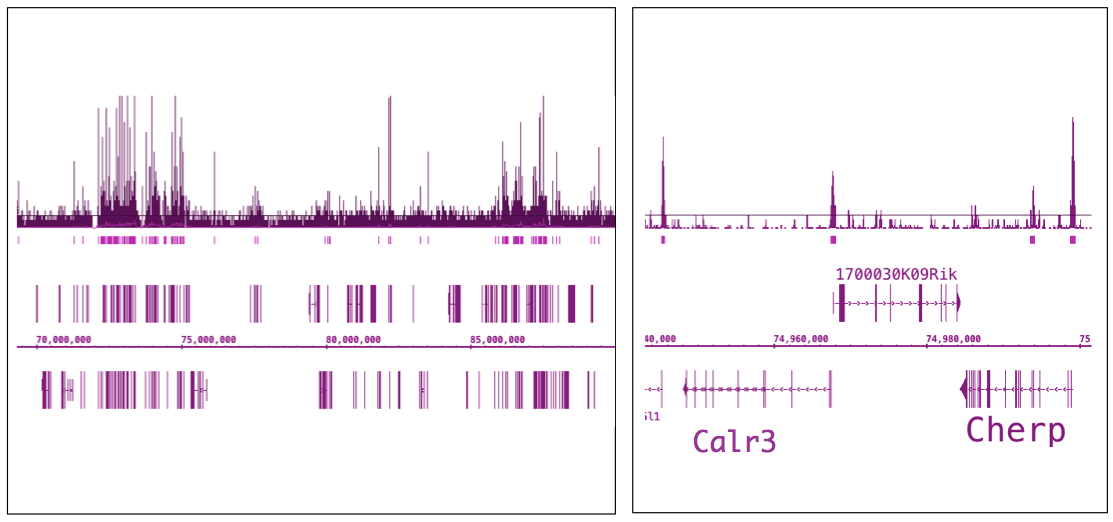 Figure 3: ChIP-Seq data for OGT/O-GlcNAc transferase antibody using chromatin from primary mouse T cells.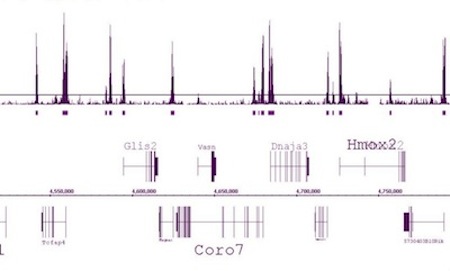 Figure 4: ChIP-Seq data for Histone H3K4me2 antibody using chromatin from mouse primary T cells.
Contents & Storage
The ChIP-IT® PBMC Kit contains sufficient reagents to perform 16 chromatin preparation and immunoprecipitation reactions. Reagents for DNA purification are also provided.
The ChIP-IT PBMC Kit is shipped on dry ice and contains reagents with multiple storage temperatures inside. Please confirm receipt of all reagents upon arrival and store items at the appropriate temperatures as indicated below. All reagents are guaranteed stable for 6 months from date of receipt when stored properly. Do not re-freeze the Protein G Agarose Beads after you have received this kit. This kit includes the following components:

RNase A (10 mg/ml); Store at -20°C
Proteinase K (10 mg/ml); Store at -20°C
Blocker; Store at -20°C
100 mM PMSF; Store at -20°C
Protease Inhibitor Cocktail; Store at -20°C
Precipitation Buffer; Store at -20°C
Carrier; Store at -20°C
10X PBS; Store at -20°C
Protein G Agarose beads; Store at 4°C
Swelling Buffer; Store at 4°C
TE, pH 8.0; Store at RT
Detergent; Store at RT
Stop Solution; Store at RT
5 M NaCl; Store at RT
ChIP Filtration Columns; Store at RT
ChIP Buffer; Store at RT
Wash Buffer AM1; Store at RT
Elution Buffer AM4; Store at RT
DNA Purification Binding Buffer; Store at RT
3 M Sodium Acetate; Store at RT
DNA Purification Wash Buffer; Store at RT
DNA Purification Elution Buffer; Store at RT
DNA Purification Columns; Store at RT
Please note that the High Sensitivity Chromatin Preparation Kit is shipped on dry ice and contains reagents with multiple storage temperatures inside. Please store each component at the temperature indicated below. All reagents are guaranteed stable for 6 months from date of receipt when stored properly. Do not re-freeze the Protein G Agarose Beads after you have received this kit. This kit includes the following components:
RNase A (10 µg/µl); Store at -20°C
Proteinase K (10 µg/µl); Store at -20°C
100 mM PMSF; Store at -20°C
Protease Inhibitor Cocktail (PIC); Store at -20°C
Precipitation Buffer; Store at -20°C
Carrier; Store at -20°C
10X PBS; Store at -20°C
Fixation Buffer; Store at 4°C
Swelling Buffer; Store at 4°C
Stop Solution; Store at RT
Chromatin Prep Buffer; Store at RT
ChIP Buffer; Store at RT
DNA Purification Elution Buffer; Store at RT
5 M NaCl; Store at RT
TE, pH 8.0; Store at RT
Detergent; Store at RT