Chromeo™ 505 is a bright, green fluorescent label that replaces Alexa Fluor 500*, DyLight 505* and other dyes excitable at a wavelength of 488 nm, such as fluorescein and FITC. The dye, which is compatible with filter sets designed for fluorescein, is a good choice to replace traditional green-emitting fluorophores and their conjugates.
Why use Chromeo™ 505?
Photostability – enables multiple exposures and increased exposure time
Bright fluorescence – sensitive detection
Low background
pH insensitive
Easy to use – no harsh chemicals required for conjugation
Narrow emission and absorption bands – enables multi-color experiments
Reactive fluorescent Chromeo 505 serves as a bright label for antibodies and other biomolecules, enabling detection in immunofluorescence, high content screening, ELISA and FRET applications, as well as in flow cytometry.
To ensure the highest quality in your immunofluorescent staining, we recommend the use of Chromeo 505 together with our complete line of MAX Stain™ Immunofluorescence Tools, as those components have been formulated to optimize the performance of all Fluorescent Chromeo™ Dyes.
Chromeo Dyes are
only
available for bulk purchase, with minimum order size of 20 mg. To receive a quote for a bulk purchase of Chromeo dyes, submit your inquiry
here
.
Name
Format
Cat No.
Price
Chromeo™ 505 NHS-Ester
1 unit
15197
Get Quote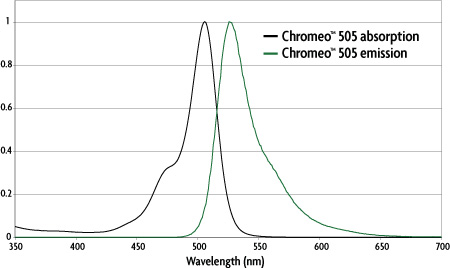 Dye
Absorption
Emission
ε L/(mol-cm)
Stokes shift
Chromeo™ 505
505 nm
526 nm
70,000
21 nm

Table 1: Properties of Chromeo™ 505.
Chromeo™ 505 is a bright, green fluorescent dye that can be excited at 488 nm. The dye is very stable over a broad pH range and in combination with the MAX Stain™ reagents it shows high fluorescence intensity and photostability. Chromeo 505 and Chromeo 505 are a good choice to replace traditional green-emitting fluorophores.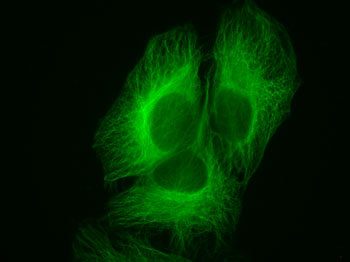 Figure 1: Chromeo 505 staining in HeLa cells.
Even if the emission spectrum of Chromeo 505 is shifted towards longer wavelength by some nm, the dye and its conjugates can still be used with filters designed for fluorescein. This makes Chromeo 505 a good candidate for multi-color staining experiments with other fluorescent dyes in the yellow or red fluorescent range. Figure 2 shows a co-staining experiment using Chromeo 505 in combination with Chromeo 642 and DAPI as a nuclear stain. Figure 3 shows Chromeo 505 staining in combination with the Hoechst nuclear stain.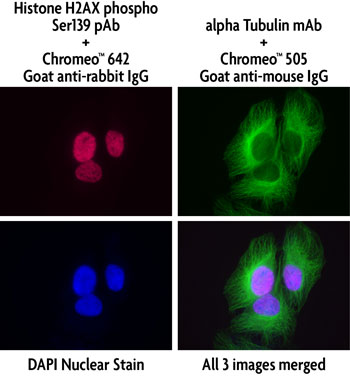 Figure 2: Concurrent staining using Chromeo 505 and Chromeo 642 fluorescent secondaries in untreated and ETO-treated HeLa cells.

Figure 3: Oct-4 staining using Chromeo 505 fluorescent secondary in human IMR-90 cells.
In contrast to fluorescein, Chromeo 505 shows high photostability in fluorescence microscopy, independently of the reagents used for sample preparation. This was demonstrated by staining tubulin in HeLa cells with reagents containing either PBS or MAX Stain™ reagents. The cells were excited over a period of 90 seconds: images were taken with an exposure time of 250 milliseconds with an interval of 735 milliseconds between the images. Figure 4, presenting the first picture taken in each series and picture number 100 of each time course, illustrates the high level of photostability of the 488 nm excitable dye in either buffer type.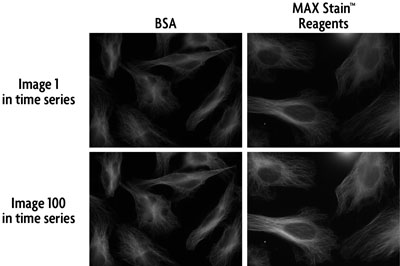 Figure 4: Time course demonstrating the photostability of Chromeo 505 in PBS and MAX Stain reagents.
Chromeo 505 has been shown to work in several different types of fluorescence microscopy. In addition to classical widefield applications, Chromeo 505 has been tested in confocal scanning microscopy and high resolution microscopy. The fluorescent properties, especially the high photostability of Chromeo 505 dye and secondaries meet the specifications required to perform STED microscopy, as shown below by staining of nuclear targets (Figures 5 and 6).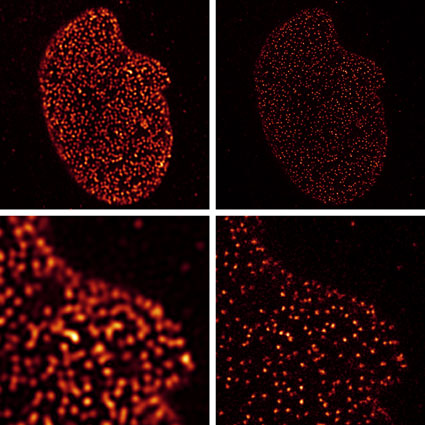 Figure 5: Chromeo 505 antibody conjugates in STED microscopy.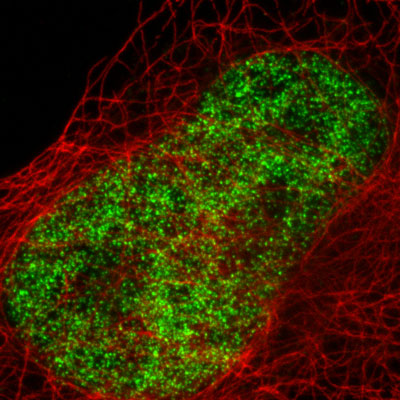 Figure 6: Active Motif's primary and fluorescent secondary antibodies in STED microscopy.
Chromeo 505 has been shown to work in a second super-resolution microscopy technology. The fluorescent properties of Chromeo 505 meet the specifications required to perform GSDIM microscopy, using the 488 nm/300 mW laser for excitation (Figure 7).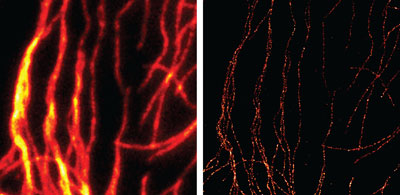 Figure 7: Chromeo 505 antibody conjugates in widefield and GSDIM microscopy.
Chromeo 505 conjugated Fluorescent Secondary Antibodies have been cited in the following publication: