AbFlex® リコンビナント抗体
高い特異性かつ再現性をもつ抗体
AbFlex抗体は,非常に特異的かつ再現性がある抗体を産生するために規定されたDNA配列を用いて生成されたリコンビナント抗体(rAb)です。 AbFlex抗体のユニークな利点は,標識と精製オプションにあります。各AbFlex抗体には,Sortase認識モチーフ(LPXTG)が含まれています。このSortase認識モチーフは蛍光物質,酵素基質(HRP、APなど),ペプチド,DNA,薬物,または他の標識を,直接的かつ再現性のある方法でこの抗体に共有結合により付加することができます。すべての抗体は,ニッケルベースの精製システムと一緒に使用することが可能な,6xHisタグおよびビオチンリガーゼ BirAを用いたビオチン結合のためのアビジンタグ配列も含んでいます。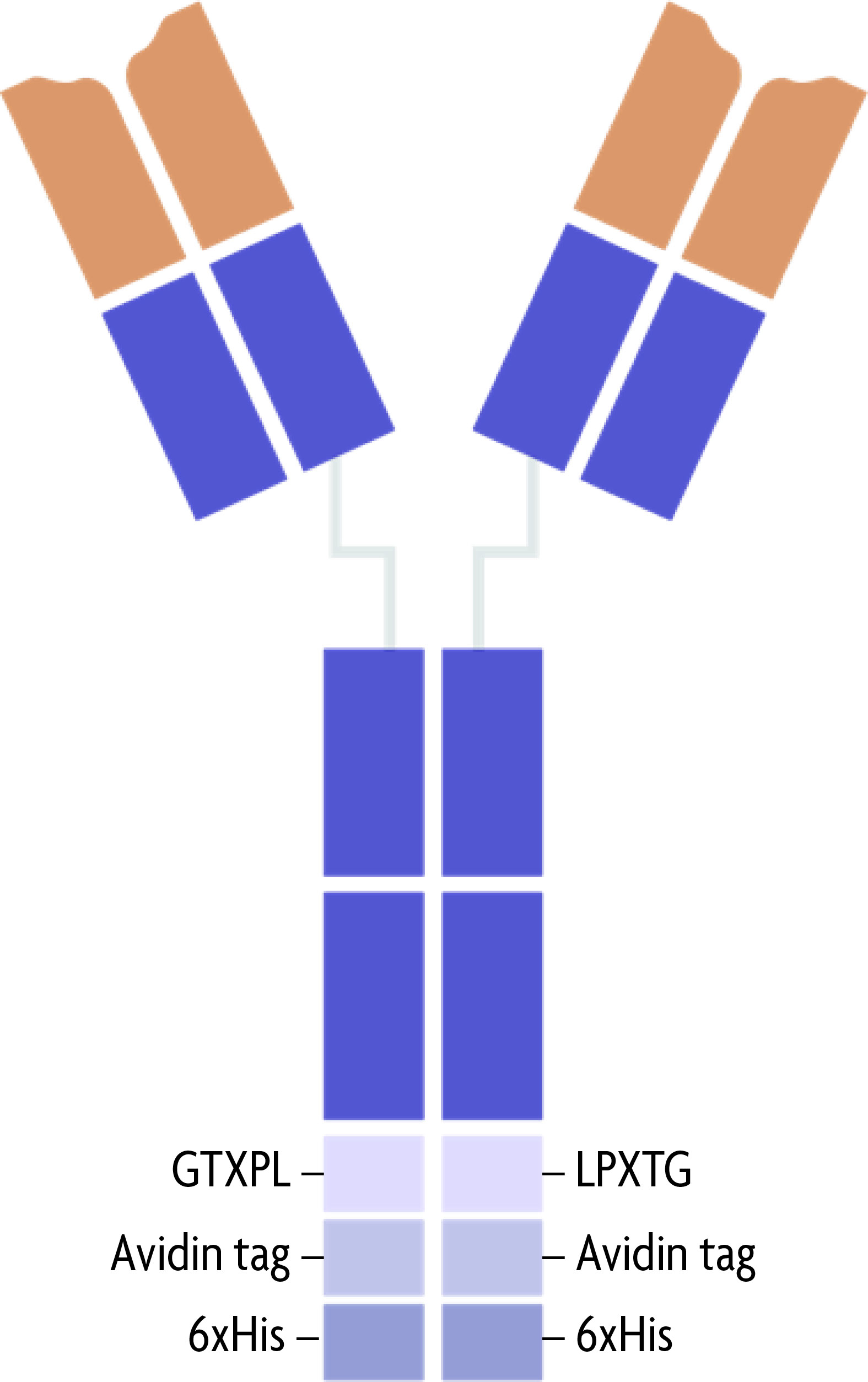 AbFlex®リコンビナント抗体(rAb)は様々な標識と精製オプションを備えています
AbFlex抗体は,抗原認識および機能への干渉を避けるために,重鎖の定常領域の末端が特異的に標識されています。これは標識化プロセスが抗体の完全性を維持することを保証し,シグナルが非機能性抗体の結果として減少しないことにおいて重要です。対照的に、一般的に使用される化学的標識方法は、抗体にランダムに標識を加えます。このランダムなプロセスは,抗原結合部位をブロックし、抗体を無効化する可能性が高くなります。また化学的標識は,プロテインAとの相互作用を妨げる可能性のある抗体のFc領域に標識を付けることもあります。


AbFlex®直接標識と化学標識との標識配置の違い
リコンビナント抗体開発以前は,研究者はポリクローナルおよびモノクローナル抗体に依存していました。ポリクローナル抗体は,同じ抗原上の複数のエピトープを認識します。これは抗体親和性を増加させますが,しばしば交差反応性の可能性が高くなります。モノクローナル抗体は,一つのユニークなエピトープに結合するB細胞を産生する単一抗体です。しかしながら,モノクローナル抗体は,時間的経過で失われたり,進化したりする可能性があります。
モノクローナル抗体は,抗体ロット全体の可変性をもたらし,時間的経過で抗体の性能を変化させる遺伝子欠損,突然変異および細胞株ドリフトを起こす可能性がありますが,リコンビナント抗体はモノクローナル抗体とは異なり,どのロットも同じ免疫グロブリン重鎖および軽鎖のDNA配列を含むため,高い一貫性があります。これにより,抗体性能のバッチ間の再現性が得られ,異なる抗体ロットを再評価または比較する必要がなくなることで,アッセイ開発に貴重な時間と労力を節約できます。
最適な性能を保証するために,各AbFlex抗体は,特異性および感度について注意深くスクリーニングが行われています。弊社のビーズベースの結合アッセイにおいて確認されたように,非常に特異的な抗体を産生する重鎖および軽鎖配列のみが選択されます。 またAbFlex直接標識アプローチを利用する抗体も,様々なアプリケーションにわたって親モノクローナル抗体よりも高い感受性を示します。
AbFlexリコンビナント抗体の別の利点として,アニマルフリーで生産されることです。ポリクローナル抗体は、動物の免疫応答およびエピトープ特異性に依存しており,両方とも動物および免疫化によって非常に変化します。またポリクローナル抗体は供給の限界があるのため,長期間の抗体プロジェクトの実施や時間的経過または研究室間にわたって同様なデータを再現することは困難になります。 AbFlexリコンビナント抗体では,完全長IgGは哺乳動物系で発現させることで,一貫して安定な抗体供給を保証します。さらに抗体産生および維持に関連する倫理的または動物愛護上の懸念が回避されます。

AbFlex®リコンビナント抗体(rAb)の利点
標識および精製オプション
ロット間での一貫した性能
高い特異性および高感度抗体
信頼性の高い長期供給
アニマルフリー生産
以下のリストは,アクティブ・モティフ社のAbFlexリコンビナント抗体(rAb)です。

Name
Isotype
Reactivity
Appl.
Format
Cat No.
Price
5-Hydroxymethylcytosine (5-hmC) antibody (rAb)
IgG
Human, Not Species Specific
DB, IF, IHC
50 µg
91309
¥70,000
Buy
AbFlex® 5-methylcytosine antibody (rAb)
IgG2a
Not Species Specific
DB
100 µg
91187
¥62,000
Buy
10 µg
91188
¥17,000
Buy
5-Methylcytosine (5-mC) antibody (rAb)
IgG
Human, Not Species Specific
DB, ICC, MeDIP
50 µg
91311
¥70,000
Buy
AbFlex® N6-Methyladenosine (m6A) antibody (rAb)
IgG2a
Human, Mouse, Not Species Specific
DB, IP
100 µg
91261
¥62,000
Buy
10 µg
91262
¥17,000
Buy
Acetyl-Lysine antibody (rAb)
IgG
Human, Not Species Specific
ICC, WB
100 µg
91315
¥70,000
Buy
AbFlex® Ago 1/2/3 antibody (rAb)
IgG2a
Human
IP
100 µg
91217
¥62,000
Buy
10 µg
91218
¥17,000
Buy
AbFlex® AM-Tag antibody (rAb)
IgG2a
Human, Not Species Specific
ChIP, ELISA, WB
100 µg
91111
¥62,000
Buy
10 µg
91112
¥17,000
Buy
AbFlex® AM-Tag antibody (rAb) (biotin)
IgG2a
Human, Not Species Specific
ChIP, ELISA, WB
100 µg
91109
N/A
10 µg
91110
N/A
AbFlex® ATM phospho Ser1981 antibody (rAb)
IgG2a
Human, Mouse
DB, WB
100 µg
91207
¥62,000
Buy
10 µg
91208
¥17,000
Buy
AbFlex® Bcl6 antibody (rAb)
IgG2a
Human
WB
100 µg
91287
¥62,000
Buy
10 µg
91288
¥17,000
Buy
AbFlex® antibodies are recombinant antibodies (rAbs) that have been generated using defined DNA sequences to produce highly specific, reproducible antibodies. The unique advantages of the AbFlex® antibody are its flexible labeling and purification options. Each AbFlex® antibody contains a Sortase recognition motif (LPXTG) to covalently add fluorophores, enzymatic substrates (HRP, AP...etc), peptides, DNA, drugs or other labels to the antibody in a directed and reproducible manner using our Sortag-IT Labeling Kits. Every antibody also contains a 6xHis Tag, which can be used with nickel-based purification systems, and a Biotinylation Tag sequence for enzymatic biotin conjugation using the biotin ligase, BirA.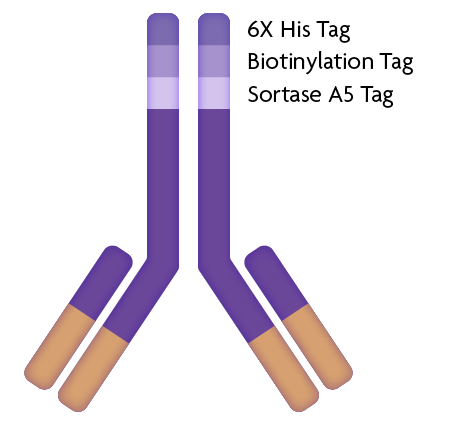 AbFlex® recombinant antibody (rAb) with flexible labeling and purification options.
AbFlex® antibodies are specifically labeled at the end of the constant region of the heavy chain to avoid interference with antigen recognition and functionality. This is important as it ensures the labeling process maintains the integrity of the antibody so signal is not diminished as a result of non-functional antibodies. In contrast, commonly used chemical labeling methods add labels to the antibody in a random fashion. The randomness of this process has a high potential to block the antigen-binding site and render the antibody ineffective. Chemical labeling can also deposit labels on the Fc region of the antibody which has the potential to obstruct interactions with protein A.

Differences in label distribution between AbFlex® direct labeling and chemical labeling.
Prior to the development of recombinant antibodies, researchers relied on polyclonal and monoclonal antibodies. Polyclonal antibodies recognize multiple epitopes on the same antigen. This increases antibody affinity, but often has a higher potential for cross-reactivity. Monoclonal antibodies represent a single antibody producing B cell that binds to one unique epitope. However, monoclonal antibodies can be lost or evolve over time.
Unlike monoclonal antibodies, which can experience gene loss, mutations and cell-line drift that alter antibody performance over time and lead to variability across antibody lots, recombinant antibodies are highly consistent because they contain the same immunoglobulin heavy and light chain DNA sequences in every lot. This provides batch-to-batch reproducibility in antibody performance and eliminates the need to re-evaluate or compare different antibody lots, thereby, saving valuable time and effort on assay development.
To ensure optimal performance, each AbFlex® antibody is carefully screened for specificity and sensitivity. Only heavy and light chain sequences that produce highly specific antibodies, as verified in our bead-based binding assay, are selected. Antibodies that utilize the AbFlex® direct labeling approach also show greater sensitivity than their parent monoclonal antibodies across a variety of applications.
Another advantage of AbFlex® recombinant antibodies is the fact that they are produced outside of an animal system. Polyclonal antibodies rely on an animal's immune response and epitope specificity, both of which are highly variable across animals and immunizations. Polyclonal antibodies are also hindered by having a finite supply, making it difficult to perform long-term antibody projects or reproduce data over time or across labs. With AbFlex® recombinant antibodies, the full-length IgG is expressed in a mammalian system to ensure a consistent, stable antibody supply. Additionally, any ethical or animal welfare concerns associated with antibody production and maintenance are avoided.
The following list contains Active Motif's AbFlex® recombinant antibodies (rAbs). For information about site-specific labeling of the AbFlex® antibodies, please visit our collection of Sortag-IT™ Labeling Kits.