The LightSwitch™ Luciferase Assay Kit was designed to provide superior results and be easy to use. It utilizes our novel, proprietary LightSwitch Assay Substrate, which was formulated specifically for use with our engineered RenSP luciferase gene. In addition, the kit's Assay Buffer makes possible one-step reagent addition, eliminating the need to perform a separate lysis step. The LightSwitch Assay offers a number of advantages:
Quantitative – Achieve high sensitivity and a broad dynamic range
(see the Data tab below)
Convenient – Simply mix reagents, add directly to cells, then read on a luminometer
Optimized – Get optimal results with LightSwitch assay reagents, developed specifically for use with our LightSwitch Reporter constructs
Flexibility – Use for a small number of samples, or easily scale up to perform thousands of assays
Name
Format
Cat No.
Price
LightSwitch™ Luciferase Assay Kit
100 assays
32031
¥24,000
Buy
1000 assays
32032
¥140,000
Buy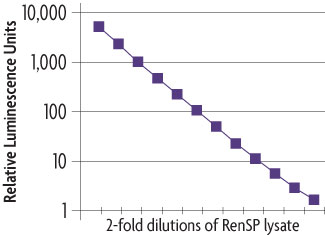 Contents & Storage
The LightSwitch™ Luciferase Assay Kit contains:
Lyophilized 100X LightSwitch™ Assay Substrate (-20°C)
LightSwitch™ Substrate Solvent (room temperature)
LightSwitch™ Assay Buffer (-20°C)
Protocol
All reagents are guaranteed stable for 6 months when stored properly.