Myelin Basic Protein, MBP, is useful as a substrate for in vitro kinase assays, including MAPK, PKA, PKC cyclin-dependent and calmodulin-dependent protein kinases.
Myelin Basic Protein is purified from bovine brain using SP-Sepharose™ FPLC and dephosphorylated using lambda phosphatase. Lambda phosphatase is then inactivated by the addition of EDTA and heat treatment (65°C for 1 hour). The estimated purity is >95% based on Coomasie staining.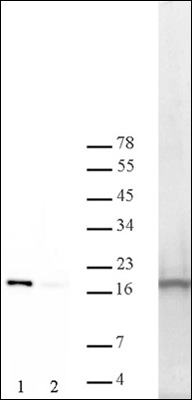 Contents & Storage
5 mg of MBP (18.5 kDa) at a concentration of 5 mg/ml in 10 mM MOPS (pH 7.0), 0.05% sodium azide, 0.02 µg/ml inactive lambda phosphatase, 0.18 mM MnCl2. Store at -20°C. Upon initial thaw, aliquot the product in small volumes to avoid freeze-thaw cycles. All reagents are guaranteed stable for 6 months when stored properly.