サンプル調製
Nuclear Extract Kit

Nuclear Extract Kit
for high quality nuclear, cytoplasmic or whole-cell extract preparation
The Nuclear Extract Kit isolates high-quality nuclear, cytoplasmic or whole-cell extract from mammalian cell or tissue samples. This eliminates the need for optimizing reagents and protocols, and ensures high yields every time. More importantly, standardizing your extraction procedure with our high-quality reagents ensures more reproducible results. Extracts are suitable for use in a various applications including EMSA, Western blot and binding assays and is ideally suited for preparation of extracts for our TransAM® Transcription Factor Assays.
The Nuclear Extract Kit works with fresh or frozen cell and tissue samples and yields protein amounts of approximately 0.5 to 1 mg from cytoplasmic extract (at 1-2 mg/ml concentration), 150 to 250 μg from nuclear extract (at 3-5 mg/ml concentration), 1.2 to 2.4 mg from whole cell extract (at 4-8 mg/ml concentration) from 8.8 x 106 cells. The kit procedure is simple and only takes two hours to complete. The kit includes buffers, detergents and reagents for lysis as well as Protease and Phosphatase inhibitors to ensure preservation of your proteins.
To learn more about our Nuclear Extract Kit, click on the Description or Contents tabs below. To view a manual or other related documents, click on the Documents tab below. For your convenience, additional Lysis Buffer AM1 and Detergent may be purchased separately.
適用
Nuclear Extract Kitを用いて得られた抽出物はアクティブ・モティフ社のTransAM® Kitsをはじめ, ゲルシフトアッセイ, ウェスタンブロッティング, DNAフットプリンティング等の解析や, 転写因子精製に使用することができます。
Nuclear Extract Kit advantages
高品質の試薬のため, 再現性のよい結果が得られます。
条件検討を行う必要がありません。
抽出に必要な全ての試薬が含まれます。
核抽出物と細胞質抽出物, 全細胞抽出物を1つのキットで調製することができます。
使用例
Nuclear Extract Kitの品質を実証するため, TNF-α 30分処理/未処理のHeLa細胞から核抽出物と細胞質抽出物を調製した。活性化されたNFκB は核内へ移行するため, TNF-α 30分処理した細胞抽出物のみが活性化されたNFκBを含むはずである。予測通り, 図1のような結果を得た。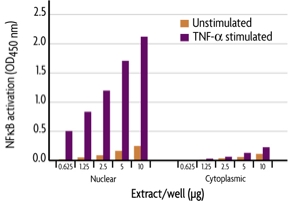 図1: 核画分および細胞質画分の高品質抽出
アクティブ・モティフ社では数多くの 核抽出物(nuclear extracts), 細胞質抽出物(cytoplasmic extracts), 全細胞抽出物(whole-cell extracts)をご用意しています。これらの抽出物はNuclear Extract Kit内の試薬と同等の高品質な試薬を用いて抽出しています。TransAM Transcription Factor DNA-binding ELISA で, ポジティブコントロールとしてご使用頂ける抽出物も多数ご用意しています。
Contents & Storage
The Nuclear Extraction Kit is shipped on dry ice and contains reagents with multiple storage temperatures inside. Please store each component at the temperature indicated below. All reagents are guaranteed stable for 6 months from date of receipt when stored properly.
1 M DTT (Dithiothreitol); Store at -20°C
Protease Inhibitor Cocktail (PIC); Store at -20°C
Lysis Buffer AM1; Store at 4°C
10X PBS; Store at 4°C
Phosphatase Inhibitors; Store at 4°C
10X Hypotonic Buffer; Store at 4°C
Detergent; Store at 4°C
Some select publications are listed below.