Histone Purification Mini Kit Overview
アクティブ・モティフ社のHistone Purification Mini Kit はヒストンのアセチル化, メチル化, リン酸化といった翻訳後修飾を保持したまま, 簡便にコアヒストン (H2A, H2B, H3 and H4) を単離するキットです。Histone Purification Mini Kitのヒストン単離方法は, 酸抽出法を改良しており, 培養細胞や組織試料から, 簡便なカラムと独自の一連のバッファーを使用して単離します。単離したコアヒストンは in vitro でのクロマチン再構築など、さまざまなアッセイで使用できます。
Histone Purification Kitの利点
スピンカラムを使用するため, 簡便です。
ヒストン修飾を保持します。
わずか 8x105 個の細胞から単離可能です。
細胞または組織からのヒストン精製が可能です。
Histone Purification Mini Kitの使用法
酸抽出法によるヒストンの単離とは異なり, Histone Purification Mini Kitでは独自の精製カラムと一連の専用バッファーを用いて高純度のヒストン画分を単離します。スピンカラムはヒストンに対する親和性が高いため, 少量の培養細胞試料から数グラムの組織試料に至るまで使用できます。Histone Purification Mini KitもHistone Purification Kitの場合と同様にアセチル化, メチル化, リン酸化などの翻訳後修飾を保持したまま, コアヒストンを単離できます (図1)。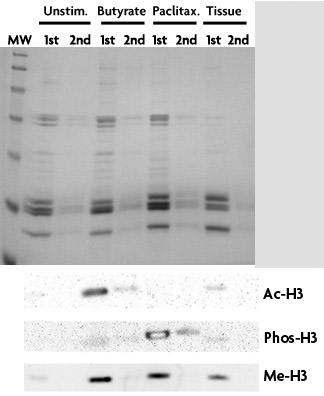 少量の細胞から効率的にヒストンを単離
Histone Purification Mini Kit に含まれる精製カラムはヒストンとの親和性が高いため, わずか8x105 個の細胞から数グラムの組織に至る試料を使用でき、ヒストン単離を20回行うことができる試薬が含まれます。使用方法は簡便かつ迅速で抽出物を作製後, 精製カラムに添加し, ヒストンを溶出してコアヒストンを単離します。単離したヒストンはOD測定により定量を行うか, 標準ヒストンと共にゲルで電気泳動して定量を行います。
ヒストンの収量
おおよその収量は下記のとおりです。収量は細胞や組織により異なります。わずか8 x 105 個の哺乳動物細胞から十分量 (10 µg) のヒストンを単離することができます(図 2)。
付着細胞: 8 x 106 個の細胞 (15cmディッシュ1枚)から0.1mgのトータルコアヒストン
浮遊細胞: 8 x 106 個の細胞から0.1mgのトータルコアヒストン
組織: 組織*1mgあたり1 mg のヒストン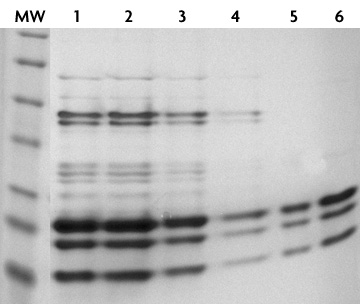 このゲルでは, H2AおよびH2B のゲル移動度が同じである
レーン 1: 100%コンフルエントなHeLa細胞15cmディッシュ1枚 (8 x 106 個)から100 µlのヒストンを溶出し, 15 µl を使用した。
レーン2: 100%コンフルエントなHeLa細胞15cmディッシュ1/2枚 (4 x 106 個)から50 µlのヒストンを溶出し, 15 µl を使用した。
レーン3: 100%コンフルエントなHeLa細胞15cmディッシュ1/5枚 (1.6 x 106 個)から50 µlのヒストンを溶出し, 15 µl を使用した。
レーン4: 100%コンフルエントなHeLa細胞15cmディッシュ1/10枚 (8 x 105 個)から50 µlのヒストンを溶出し, 15 µl を使用した。
レーン5: 2.5 µg の精製したHeLa細胞コアヒストン。レーン 6: 5 µg の精製したHeLa細胞コアヒストン。
Histone Purification Mini Kit Contents
Inhibitors are NOT included in the Histone Purification Mini kit and are generally not required to preserve histone post-translational modifications using this kit. If inhibitors are desired, they must be supplied by the user and can be added to the extraction and neutralization buffers during isolation. Additional Extraction Buffer and 5X Neutralization buffer may be purchased separately.
Please note that the Histone Purification Mini Kit is shipped at room temperature and contains reagents with multiple storage temperatures inside. Please store each component at the temperature indicated below. All reagents are guaranteed stable for 6 months from date of receipt when stored properly. Each Histone Purification Mini Kit supplies sufficient reagents to perform 20 purifications. This kit includes the following components:
Extraction Buffer; Store at 4°C
5X Neutralization Buffer; Store at 4°C
Equilibration Buffer; Store at 4°C
Histone Wash Buffer; Store at 4°C
Histone Elution Buffer; Store at 4°C
Purification spin columns; Store at RT
Collection tubes; Store at RT
ChIP-IT High Sensitivity® Publications
Search our database of customer publications that have used our Histone Purification Mini Kit.
---
Histone Purification Mini Kit Documents
You might also be interested in:
Name
Format
Cat No.
Price
Histone Purification Mini Kit
20 rxns
40026
¥94,000
Buy
Protease Inhibitor Cocktail
1 ml
37490
¥31,000
Buy
5 ml
37491
¥74,000
Buy
Phosphatase Inhibitor Cocktail
1 ml
37492
¥38,000
Buy
5 ml
37493
¥105,000
Buy
Deacetylase Inhibitor
5 ml
37494
¥38,000
Buy
Extraction Buffer
100 ml
37513
¥19,000
Buy
5X Neutralization Buffer
50 ml
37514
¥19,000
Buy