RNA Subcellular Isolation Kit は、核または細胞質のRNAを交差汚染なしに精製するためのキットです。このキットはmRNAだけでなく、75塩基程度の低分子のRNA(例えばsnoRNA, mRNA, and lncRNA)の精製にも適しています。 RNA分子は、細胞の状態により異なるレベルのプロセシング、成熟を受けています。このような異質性は、下流の解析、データの解釈に影響を与えます。特定の細胞内画分からRNAを単離精製することにより、遺伝子発現解析の制度を大幅に向上させることができます。細胞内のRNAを分画することにより少量の転写産物の検出効率を高め、成熟したmRNAやイントロンRNAによるバックグラウンドのシグナルを抑制することで、RNAプロセシングの動的変化の解析を可能とします。さらに細胞分画により、長鎖非翻訳RNA(long non-coding RNA)がどこに局在か調べ、その領域での機能解析を助けます。
RNA Subcellular Isolation Kitには,1反応につき200万~400万の培養細胞または15mgの組織から15の核および15の細胞質精製を行うのに十分な試薬が含まれます。試料を溶解させ,遠心分離するだけで,核および細胞質RNAを分離することができます。各RNA断片を個々のスピンカラムに充填し,タンパク質を除去するために洗浄します。精製されたRNAをカラムから抽出し,定量します。 このキットを使うことで,トータルRNAの精製も可能です。
アクティブ・モティフ社のRNA Subcellular Isolation Kitの詳細については,以下の Description、Method、Data または Contents タブをクリックしてください。 マニュアルまたは関連書類については,Documents タブをクリックしてください。
| Name | Format | Cat No. | Price | |
| --- | --- | --- | --- | --- |
| RNA Subcellular Isolation Kit | 30 rxns | 25501 | ¥54,000 | Buy |
Kit Specifications:
Separates nuclear and cytoplasmic RNA without cross-contamination
Works with cultured cells or tissue
Easy-to-use spin columns included for RNA purification
Method avoids the use of phenolic compounds
Isolates RNA between the sizes of 75-7,000 nucleotides (includes snoRNA, mRNA, lncRNA)
Purified RNA validated for use in RT-qPCR and RNA-seq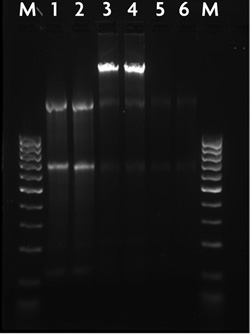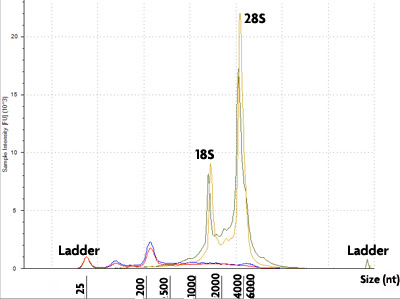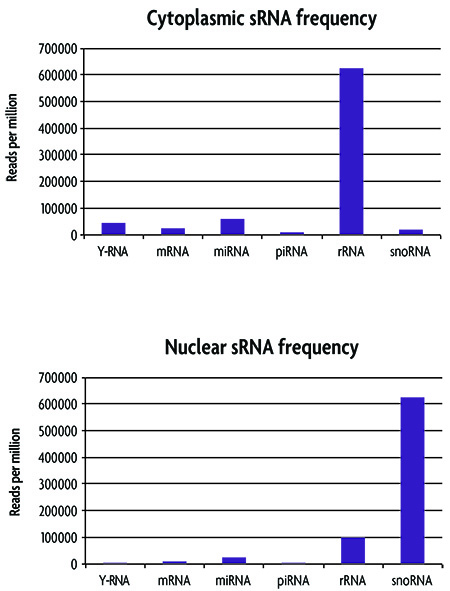 Applications:
The RNA Subcellular Isolation Kit is designed to isolate nuclear and cytoplasmic RNA from cultured cells and fresh tissue, or total RNA from cultured cells and fresh or frozen tissue. The purified RNA is suitable for use in a variety of downstream applications.
Reverse-transcription quantitative PCR (RT-qPCR)
RNA-seq
Northern blotting
Purified RNA can undergo DNase I treatment
Purified RNA can undergo ribosomal RNA (rRNA) depletion
Purified RNA can be used for polyadenylation (poly A) selection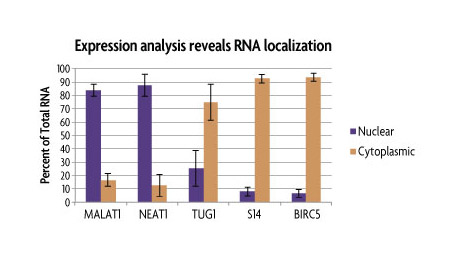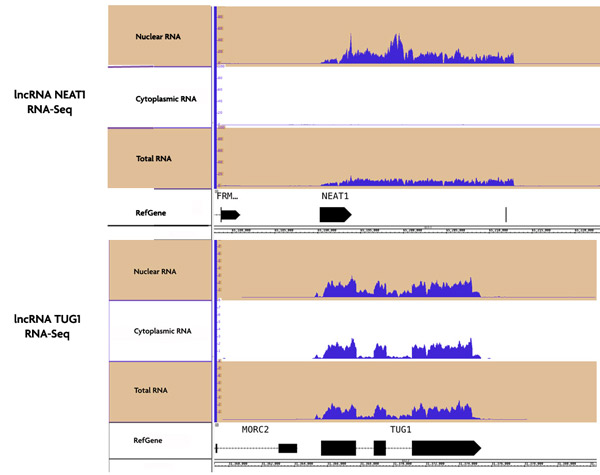 How does it work?
The RNA Subcellular Isolation assay works by lysing cell or tissue samples in complete lysis buffer. The lysate is then separated by centrifugation, with the supernatant containing cytoplasmic RNA and the pellet containing nuclear RNA. A guanidine-based buffer and ethanol are added to each RNA fraction before being loaded onto individual spin columns. Following a wash step to remove any proteins, the RNA fractions are eluted and quantified. RNA can be further process with Active Motif's DNase I Treatment Kit (Catalog No. 25502) to remove any genomic DNA contamination from the purified RNA sample prior to downstream analysis.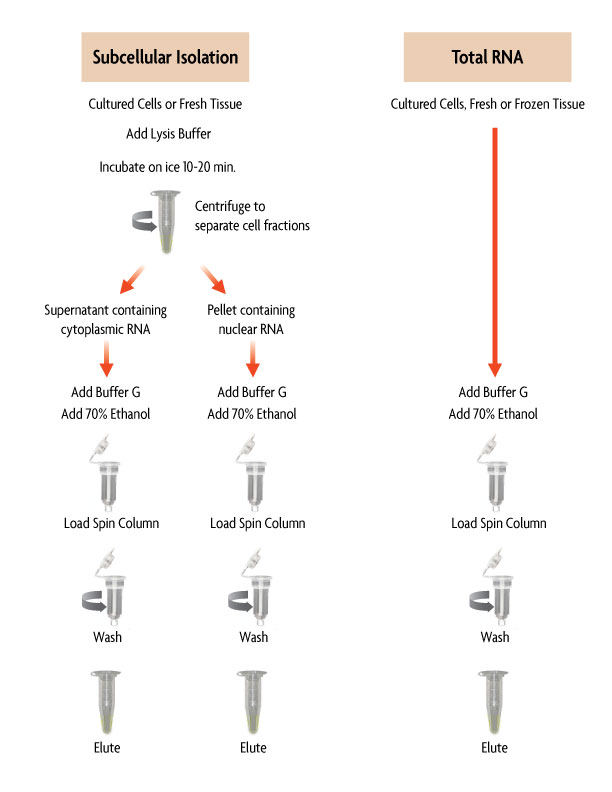 Figure 1: Flow Chart of the RNA Subcellular Isolation Method.
RNA Subcellular Isolation Kit
Maximum Column Binding Capacity
40 µg
Maximum Column Loading Volume
750 µl
Size of purified RNA
75-7,000 nucleotides
Maximum Amount of Starting Material
Cells

Tissue

2 x 106 cells (Total RNA)
4 x 106 cells (Cytoplasmic and Nuclear RNA)
15 mg tissue
Assay Time
2 hours
Average Yields
HeLa Cytoplasmic RNA
HeLa Nuclear RNA
HeLa Total RNA

12-25 µg at 250-500 ng/µl from 2 x106 cells
12-25 µg at 250-500 ng/µl from 2 x106 cells
25-40 µg at 500-900 ng/µl from 2 x106 cells
Contents & Storage
Please note that the RNA Subcellular Isolation Kits are shipped on dry ice and contain reagents with multiple storage temperatures inside. Please store each component at the temperature indicated below. All reagents are guaranteed stable for 6 months from date of receipt when stored properly.This kit includes the following components:
1 M DTT; Store at -20°C
10X PBS; Store at 4°C
Lysis Buffer AM7; Store at 4°C
Buffer G; Store at 4°C
Purification Columns; Store at RT
DEPC Water; Store at RT