エピジェネティクス・クロマチン
MeDIP

MeDIP
efficient enrichment of 5-mC containing DNA fragments
The MeDIP Kit is designed to immunoprecipitate and enrich for single-stranded DNA fragments containing 5-methylcytosine (5-mC). The MeDIP Kit contains a monoclonal 5-methylcytidine antibody, a bridging antibody and the necessary buffers to perform methylated DNA immunoprecipitation (MeDIP). The affinity of the antibody enables separation of 5-mC DNA from 5-hmC DNA using single-stranded input DNA. For complete details, click the 5-mC Info tab below.
Active Motif's fast, magnetic protocol has been streamlined to minimize the number of wash and incubation steps, saving you valuable time. The kit also includes MseI digested human genomic DNA and PCR primers that can be used to verify the efficiency of the enrichment. Additionally, the kit contains a bar magnet for easy separation and elution of the enriched methylated DNA. Click the Data tab below to see results from the kit; manuals can be downloaded under the Documents tab.
5-Methylcytosine (5-mC) MeDIP
Methylated DNA Immunoprecipitation (MeDIP) is an immunocapture technique in which an antibody specific for methylated cytosines is used to immunoprecipitate methylated genomic DNA fragments. MeDIP uses single-stranded DNA that has been fragmented by sonication or enzymatic digestion. The addition of a monoclonal antibody specific for 5-methylcytosine in the presence of a bridging antibody enables capture of the DNA fragments containg 5-mC methylation. The use of Protein G magentic beads provides quick and efficient capture. Methylated fragments are then eluted from the magnetic beads providing DNA samples that are specifically enriched for 5-mC DNA methylation. This selectivity is important as most common approaches to analyze DNA methylation, such as enzymatic approaches and bisulfite conversion, are unable to distinguish between 5-mC and 5-hmC.
The affinity of the antibody used in the MeDIP kit enables detection of methylated cytosines regardless of their context. This means that the methylation does not need to occur in the context of a CpG dinucleotide, unlike methyl-binding protein (MBD) affinity enrichment methods which requires CpG methylation for proper detection.
MeDIP Kit Advantages
Specific antibody only enriches 5-mC methylated DNA
Includes bridging antibody to increase efficiency of DNA capture
One-step IP reaction
No need to pre-wash magnetic beads
Optimized magnetic protocol to minimize hands-on time
Kit includes positive control human genomic DNA and PCR primers to verify efficiency
Flow Chart of MeDIP Method

Figure 1: Flow chart of the MeDIP Method.
MeDIP
The MeDIP Kit is able to selectively enrich for DNA fragments containing 5-methylcytosine DNA methylation from the rest of the genomic DNA population. The MeDIP Kit was tested using 500 ng of the included MseI digested human genomic DNA in the presence or absence of bridging antibody. Eluted DNA was purified with Active Motif's Chromatin IP DNA Purification Kit (Catalog No. 58002) and tested in real time PCR with the included ZC3H13 PCR primer set. Results shown in Figure 1 demonstrate the importance of using a bridging antibody within the assay. In Figure 2, enriched DNA was tested using either the included positive control ZC3H13 PCR primer mix or a negative control GAPDH PCR primer mix.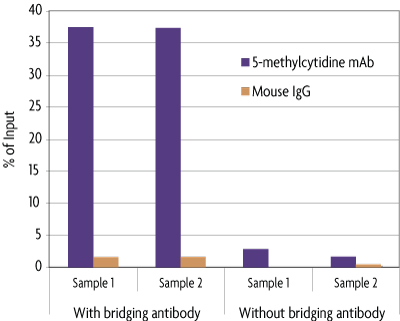 Figure 1: MeDIP Kit in the presence or absence of bridging antibody.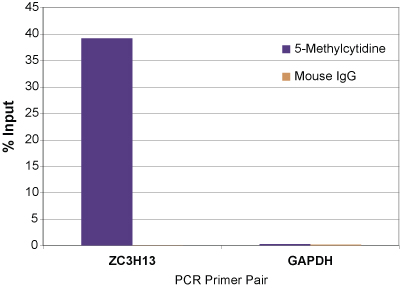 Figure 2: Real time PCR results of the control DNA with ZC3H13 and GAPDH PCR primer sets.
Preparation of MeDIP Enriched Samples for Next-Gen Sequencing
Since MeDIP uses a 5-methylcytosine antibody that only binds methylated cytosines in the context of single-stranded DNA to enrich for methylated genomic DNA, the DNA must be denatured prior to immunoprecipitation. As a result of denaturation, the enriched DNA can not be processed for Next-Gen sequencing using the typical sequencing library generation protocols, as these require adapter ligation to double-stranded DNA. This problem can be circumvented by addition of the Next-Gen adapters to fragmented genomic DNA prior to performing MeDIP.
If you intend to perform Next-Gen sequencing analysis following methylated DNA immunoprecipitation using the Active Motif MeDIP kit, an optimized library generation protocol adapted from the Illumina Paired-End DNA Sample Prep Kit protocol is provided in the MeDIP manual. Just follow the simple instructions for library preparation, immunoprecipitation, and PCR amplification to prepare your MeDIP enriched DNA for analysis by Next-Gen Sequencing.

Click on image to enlarge size.
Figure 1: Next-Gen sequencing data generated using Active Motif's MeDIP Kit correlates well with CpG density.

Click on image to enlarge size.
Figure 2: Next-Gen sequencing data generated using Active Motif's MeDIP Kit detects methylation at CpG shores.
Contents & Storage
The MeDIP Kit contains a mouse monoclonal 5-methylcytidine antibody, a bridging antibody, negative control mouse IgG, PIC, Buffer C, Buffer D, Elution Buffer AM2, Neutralization Buffer, Sterile water, PCR tubes, Protein G magnetic beads and a bar magnet for the separation and elution of DNA fragments containing 5-mC. Protocols are provided for the fragmentation of sample DNA all the way through to real time PCR analysis of a locus of interest.
The kit also includes positive control DNA and PCR primers. Human genomic DNA, MseI digested and ZC3H13 PCR primer pair are provided for use as a positive control.
Storage condiitons range from room temperature to -20°C; please refer to the manual for proper storage temperatures of each component.
MeDIP Assay Publications
The following list represents selected publications in which Active Motif's assay has been used: