Recombinant IRF3 protein
Aliases: Interferon Regulatory Factor 3, IRF-3
| | | | |
| --- | --- | --- | --- |
| 商品コード: 31544 | Format: 20 µg | ¥74,000 | Buy Now |
Expressed In:
Baculovirus
Protein Species:
Human
Request a quote for a bulk order
---
for Recombinant IRF3 protein

Contents

Recombinant full length IRF3 protein is supplied in 25 mM HEPES pH 7.5, 300 mM NaCl, 5% glycerol, 0.04% Triton X-100, 0.2 mM TCEP. Please refer to product insert upon arrival for lot-specific concentration.
for Recombinant IRF3 protein

Background

IRF3 (Interferon regulatory factor 3)is a member of the IRF family of transcription factors that include IRF1, IRF6 and IRF7. IRF3 that has been phosphorylated at serine/threonine forms a complex with CREBBP and translocates to the nucleus to activate transcription of interferon-induced genes. IRF3 plays a critical role in the innate immune response against DNA and RNA viruses.
for Recombinant IRF3 protein

Application Notes

Recombinant IRF3 Protein is useful for the study of protein-protein interaction, screening inhibitors, and selectivity profiling.
for Recombinant IRF3 protein

Protein Details

Recombinant human IRF3 was expressed in a baculovirus expression system as the full length protein (accession number NP_001562.1) with an N-terminal FLAG-Tag. The molecular weight of the protein is of 50.2 kDa. The IRF3 protein is >90% pure by SDS-PAGE.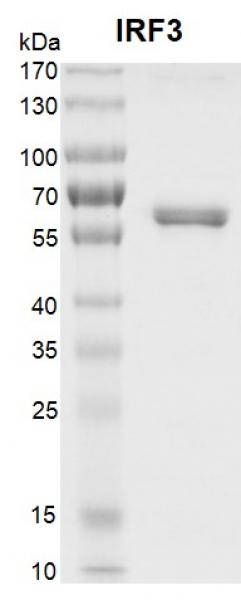 for Recombinant IRF3 protein

Storage

Recombinant proteins in solution are temperature sensitive and must be stored at -80°C to prevent degradation. Avoid repeated freeze/thaw cycles and keep on ice when not in storage.
for Recombinant IRF3 protein

Guarantee

This product is guaranteed for 6 months from date of receipt.

This product is for research use only and is not for use in diagnostic procedures.