Recombinant IDH2 protein
| | | | |
| --- | --- | --- | --- |
| Catalog No: 31615 | Format: 100 µg | ¥74,000 | Buy Now |
| Catalog No: 31715 | Format: 1 mg | ¥648,000 | Buy Now |
Expressed In:
Baculovirus
Protein Species:
Human
Request a quote for a bulk order
---
for Recombinant IDH2 protein

Contents

Recombinant IDH2 protein is supplied at a concentration of 0.5 µg/µl in 25 mM HEPES pH 7.5, 300 mM NaCl, 5% glycerol, 0.04% Triton X-100, 0.2 mM TCEP.
for Recombinant IDH2 protein

Background

IDH2 (Isocitrate Dehydrogenase (NADP(+)) 2, Mitochondrial, also known as MNADP-IDH, D2HGA2, IDHM, IDH, IDPM, IDC-M) is a member of isocitrate dehydrogenases, which catalyze the oxidative decarboxylation of isocitrate to 2-oxoglutarate. Isocitrate dehydrogenases belong to two distinct subclasses, one of which utilizes NAD(+) as the electron acceptor and the other NADP(+). Five isocitrate dehydrogenases have been reported: three NAD(+)-dependent isocitrate dehydrogenases, which localize to the mitochondrial matrix, and two NADP(+)-dependent isocitrate dehydrogenases, one of which is mitochondrial and the other predominantly cytosolic. Each NADP(+)-dependent isozyme is a homodimer.
IDH2 is a NADP(+)-dependent isocitrate dehydrogenase found in the mitochondria. It plays a role in intermediary metabolism and energy production. This protein may tightly associate or interact with the pyruvate dehydrogenase complex.
for Recombinant IDH2 protein

Application Notes

This protein is useful for the study of enzyme kinetics, screening inhibitors, and selectivity profiling.
Activity Assay Conditions: 200 µM DL-isocitric acid trisodium and 200 µM NADP+ were incubated with IDH2 protein in reaction buffer including 50 mM Tris-HCl pH 7.4, 100 mM MgCl2 for 10 minutes at room temperature. The generation of product NADPH was monitored by measuring absorbance at 340 nm.
for Recombinant IDH2 protein

Protein Details

Recombinant IDH2 protein was expressed in Baculovirus system as the full length protein (accession number NP_002159.2) with a C-terminal FLAG-Tag. The molecular weight of the protein is 51.7 kDa.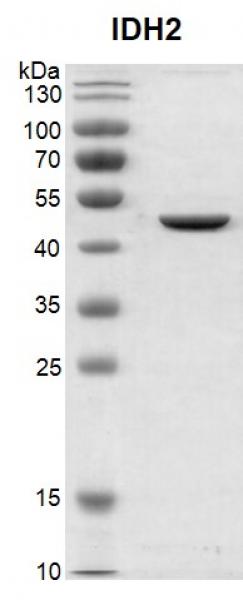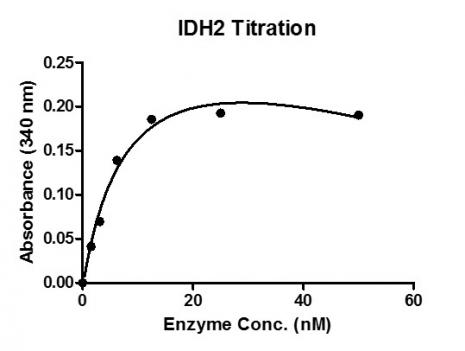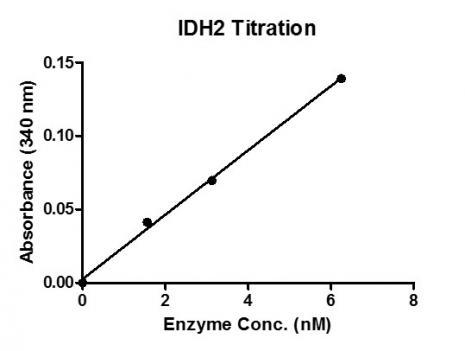 for Recombinant IDH2 protein

Storage

Recombinant proteins in solution are temperature sensitive and must be stored at -80°C to prevent degradation. Avoid repeated freeze/thaw cycles and keep on ice when not in storage.
for Recombinant IDH2 protein

Guarantee

This product is for research use only and is not for use in diagnostic procedures. This product is guaranteed for 6 months from date of arrival.