SALL4 antibody (pAb)
Aliases: Spalt Like Transcription Factor 4, DRRS, HSAL4, ZNF797, dJ1112F19.1
| | | | |
| --- | --- | --- | --- |
| 商品コード: 39957 | Format: 100 µl | ¥68,400 | Buy Now |
| 商品コード: 39958 | Format: 10 µl | ¥20,000 | Buy Now |
Request a quote for a bulk order
---
| | |
| --- | --- |
| Antibody Type: | Polyclonal |
| Isotype: | IgG |
| Purification: | Affinity Purified |

| | |
| --- | --- |
| Host: | Rabbit |
| Molecular Weight: | 142 kDa |
| Reactivity: | Mouse |
Applications


for SALL4 antibody (pAb)

Application Notes


Validated Applications:
IP: 10 µl per IP
WB: 1:500 - 1:2,000 dilution
for SALL4 antibody (pAb)

Immunogen

This SALL4 antibody was raised against a synthetic peptide derived from the N-terminus of human SALL4.
for SALL4 antibody (pAb)

Buffer

Purified IgG in 70 mM Tris (pH 8), 105 mM NaCl, 31 mM glycine, 0.07 mM EDTA, 30% glycerol and 0.035% sodium azide. Sodium azide is highly toxic.
for SALL4 antibody (pAb)

References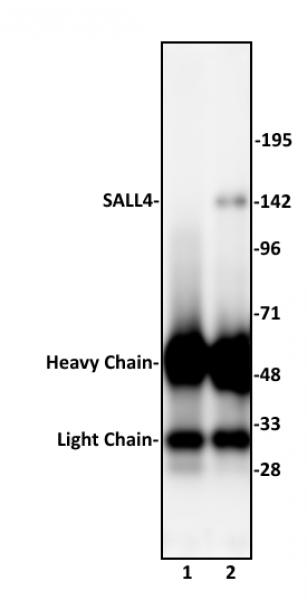 for SALL4 antibody (pAb)

Background

SALL4 (Sal-like protein 4) is a zinc-finger transcription factor required for the maintenance of embryonic stem cell pluripotency. SALL4 activates the expression of Oct4 and reduction in the levels of SALL4 eliminates the ability of ES cells to self-renew and causes differentiation. SALL4 mutations are associated with the developmental disorders IVIC syndrome and Duane-radial ray syndrome.