リコンビナントタンパク質・酵素

»
»
Recombinant ALKBH3 protein
Recombinant ALKBH3 protein
| | | | |
| --- | --- | --- | --- |
| Catalog No: 81130 | Format: 100 µg | ¥50,000 | Buy |
| Catalog No: 81830 | Format: 1 mg | ¥400,000 | Buy |
Expressed In:
E. coli
Protein Species:
Human
Request a quote for a bulk order
---
Contents
Recombinant ALKBH3 protein is supplied in 25 mM Tris pH 8.0, 300 mM NaCl, 10% glycerol, 0.5 mM TCEP.
Background
ALKBH3 (AlkB Homolog 3, Alpha-Ketoglutarate Dependent Dioxygenase) is a member of ALKBH protein family. It mediates demethylation of DNA and RNA containing 1-methyladenosine (m1A). It can repair alkylated DNA containing 1-methyladenosine (m1A) and 3-methylcytosine (m3C) by oxidative demethylation. ALKBH3 has a strong preference for single-stranded DNA. It is able to process alkylated m3C within double-stranded regions via its interaction with ASCC3, which promoting DNA unwinding to generate single-stranded substrate needed for ALKBH3. ALKBH3 also acts on RNA via demethylating N(1)-methyladenosine (m1A) RNA, an epigenetic internal modification of messenger RNAs (mRNAs) highly enriched within 5-untranslated regions (UTRs) and in the vicinity of start codons. The oxidative demethylation requires molecular oxygen, alpha-ketoglutarate and iron.
Application Notes
Recombinant ALKBH3 protein is suitable for use in enzyme kinetics, inhibitor screening, and selectivity profiling.
Protein Details
Full length ALKBH3 protein (accession number NP_631917.1) was expressed in E.coli cells with an N-terminal 6xHis tag. The molecular weight of ALKBH3 is 36.9 kDa.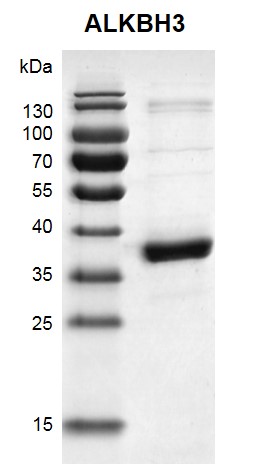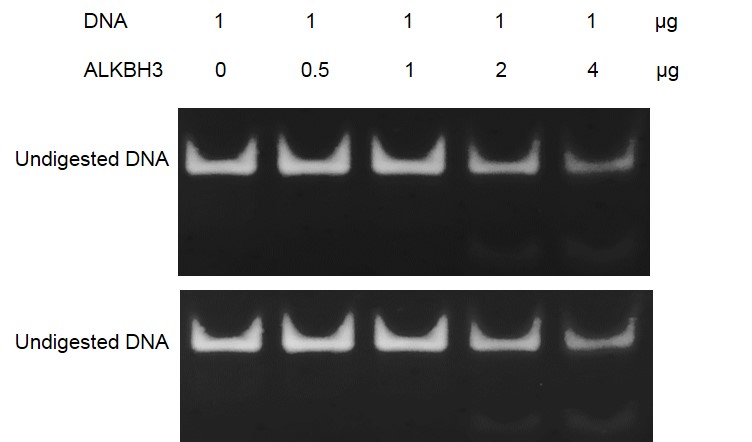 Storage
Recombinant proteins in solution are temperature sensitive and must be stored at -80°C to prevent degradation. Avoid repeated freeze/thaw cycles and keep on ice when not in storage.
Guarantee
This product is for research use only and is not for use in diagnostic procedures. This product is guaranteed for 6 months from date of arrival.
Technical Data Sheet
Recombinant ALKBH3 protein
Data Thumbnails