抗体標識
Fluorescent Antibody Labeling Kits

»
Fluorescent Antibody Labeling Kits
Fluorescent Antibody Labeling Kits
quick and easy kits to conjugate your antibody to Chromeo Dyes
Active Motif's Chromeo™ Antibody Labeling Kits enable you to label your antibodies and proteins with the superior fluorescence of our Chromeo Dyes. Convenient kits for labeling with the Chromeo 488, 494, 546 and 642 Dyes are available. Chromeo conjugates will exhibit a bright fluorescence and additional superior luminescence properties, like broad Stokes shifts, stability towards photobleaching and pH, and low cell toxicity.

Figure 1: Tubulin staining in HeLa cells.
To ensure that you get the best results possible, we highly recommend that you use Chromeo Dyes together with our MAX Stain™ Immunofluorescence Tools, as those components have been formulated to optimize the performance of the Chromeo Dyes.
それぞれのキットには3回分の標識反応( 1反応は抗体 1mg使用 )に必要な蛍光色素, 精製用カラム, レジン, 最適なバッファーが含まれます。Chromeo Dyeはアミン反応性の蛍光色素で, 1回ごとの使用量に分けて3本のチューブに分注して提供しています。標識反応は簡便で, 約1時間で標識が終了します。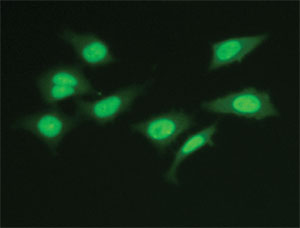 図1: 固定したHeLa細胞のLamin染色
Chromeo Antibody Labeling Kit の利点
簡便 – 色素と目的の抗体またはタンパク質を混合するだけです。
迅速 – 1時間で目的の抗体を標識できます。
経済的 – カスタムオーダー標識よりも低価格です。
最適 – 蛍光試薬ブランドActive Motif Chromeonの製品です。
Chromeo™ Dyes – Chromeo 488, Chromeo 494, Chromeo 546 and Chromeo 642 – are bright fluorescent labels that replace Alexa Fluor*, DyLight* or Cy*-dyes. They are compatible with most excitation sources including diode lasers, LEDs, tungsten lamps and xenon arc lamps.
Chromeo™ Dye advantages
High intensity
Photostability – the combination with MAX Stain™ reagents provides optimal fluorescent stability for multiple exposures and increased exposure time
Room temperature incubations
pH insensitive
Low background
Easy to use – no harsh chemicals required for conjugation
Fluorescent Chromeo Dyes serve as bright labels for antibodies and other biomolecules, enabling detection in immunofluorescence, high content screening, ELISA and FRET applications, as well as in flow cytometry.
Dye
Absorption
Emission
Spectra
ε L/(mol-cm)
Stokes shift
Chromeo™ 488
488 nm
517 nm
73,000
29 nm
Chromeo™ 494
494 nm
628 nm
55,000
124 nm
Chromeo™ 546
545 nm
561 nm
98,800
16 nm
Chromeo™ 642
642 nm
660 nm
180,000
18 nm
Table 1: Properties of Chromeo Dyes.
To receive more detailed information and application data about individual Chromeo dyes, simply "click" on the name or on the spectrum of the Chromeo dye of your choice in the table above.
The Fluorescent Antibody Labeling Kits have been cited in the following publications:
For additional citations on Chromeo™ Dyes and conjugated seconday antibodies, please go to the individual product pages for Chromeo 488, Chromeo 494, Chromeo 546 and Chromeo 642.
Contents & Storage
3 vials of Chromeo Dye, 3 purification columns, Coupling Buffer, Elution Buffer and DMF. Chromeo Dyes should be stored at -20°C and all other components should be stored at 4°C. All reagents are guaranteed stable for 6 months when stored properly.
The 1 ml vial of MAXfluor™ Mounting Medium, which is delivered with the Chromeo 488 Antibody Labeling Kit, should be stored at 4°C in the dark.
*All trademarks are the property of their respective owners.