蛍光検出・標識
Chromeo™ 494

Chromeo™ 494
488-excitable long Stokes shift dye for bioanalysis
Chromeo™ 494 is a unique red fluorescent label that is excitable at a wavelength of 488 nm by Argon Laser, LED, Xenon-Arc or Tungsten-Halogen lamps. It has a very large Stokes shift of 134 nm, making it an ideal partner for multiplexing in immunofluorescence experiments, especially in combination with Chromeo 488. While both dyes are readily excited at 488 nm, the fluorescent emission of Chromeo 488 at 517 nm is easily distinguished from the emission of Chromeo 494 at 628 nm. This long Stokes shift eliminates signal overlap caused by bleed-through between the detection channels in multiplexing experiments.
Why use Chromeo™ 494?
Large Stokes shift – ideal for multiplexing with other 488-excitable dyes
Photostability
Low background
pH insensitive
Easy to use – no harsh chemicals required for conjugation
Reactive fluorescent Chromeo 494 serves as a bright label for antibodies and other biomolecules, enabling detection in immunofluorescence, high content screening, ELISA and FRET applications, as well as in flow cytometry. To provide you with flexibility in labeling your antibodies and proteins, Chromeo 494 is offered in a variety of chemistries. For greater convenience, Chromeo 494 can be purchased in our easy-to-use Fluorescent Antibody Labeling Kits, and is also offered as optimized Fluorescent Secondary Antibody Conjugates for enhanced detection.
To ensure the highest quality in your immunofluorescent staining, we recommend the use of Chromeo 494 together with our complete line of MAX Stain™ Immunofluorescence Tools, as those components have been formulated to optimize the performance of all Fluorescent Chromeo™ Dyes. In addition we recommend the use Mowiol or TDE (2,2'-thiodiethanol) to mount the slide preparations, as these media have been shown to increase the quality of fluorescence microscopy images using Chromeo 494.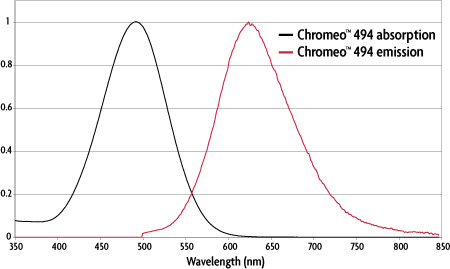 Figure 1: Absorption and emission spectra of Chromeo™ 494.
Dye
Absorption
Emission
ε L/(mol-cm)
Stokes shift
Chromeo™ 494
494 nm
628 nm
55,000
134 nm
Table 1: Properties of Chromeo™ 494.
Chromeo™ 494 is a unique fluorescent dye that can be excited at 488 nm. Due to its large Stokes shift of 134 nm, the dye emits a red fluorescence. Chromeo 494 is compatible with all excitation sources used for fluorescein, FITC, Chromeo 488 and other 488 nm-excitable dyes. However, because the red emission of Chromeo 494 is separated completely from the green fluorescence emitted by other 488-excitable dyes, Chromeo 494 and Chromeo 494 Fluorescent Secondary Antibody Conjugates are ideal partners for green fluorescent dyes and green fluorescent proteins in multi-color experiments.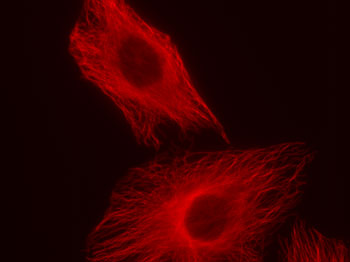 Figure 1: Chromeo 494 staining in HeLa cells.
The fluorescent properties of Chromeo 494, especially its long Stokes shift, and its ability to be combined with MAX Stain™ Immunofluorescence Tools make Chromeo 494 and its Fluorescent Secondary Antibody Conjugates excellent partners of Chromeo 488 and other 488 nm-excitable dyes for use in fluorescence microscopy and multiplexing experiments.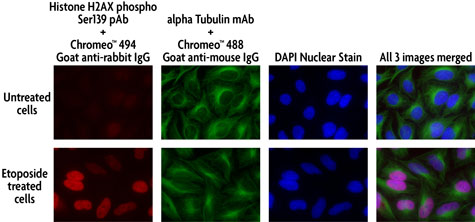 Figure 2: Multi-color staining of Phospho H2AX and tubulin using Chromeo 494 and Chromeo 488 secondary antibodies in untreated and etoposide-treated HeLa cells.
Chromeo 494 has been shown to work in several different types of fluorescence microscopy. In addition to classical widefield applications, Chromeo 494 and its Fluorescent Secondary Antibody Conjugates have been tested in confocal scanning microscopy and high resolution microscopy. For STED (STimulated Emission Depletion) microscopy using the 531 nm excitation laser of the TCS STED microscope, Active Motif's fluorescent Chromeo 494 dye and conjugated secondary antibodies have been certified by Leica Microsystems. The fluorescent properties of Chromeo 494 dye and secondaries meet the specifications required to perform dual-color STED microscopy in combination with fluorescent ATTO (STED) secondary antibody conjugates, as demonstarted by co-localization experiments in the cell nucleus (Figure 3), in synaptic complexes of dendritic cells (Figure 4) or by staining tubulin (Figure 5).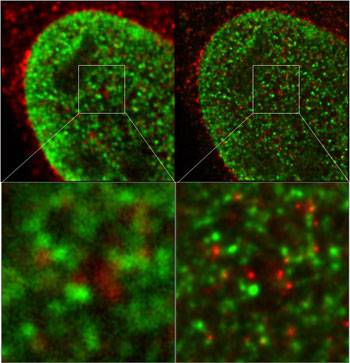 Figure 3: Nuclear structures visualized by dual color STED experiments.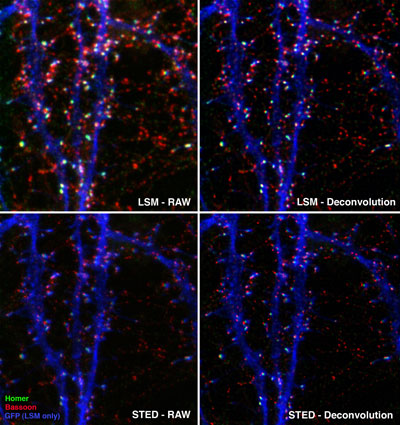 Figure 4: Pre- and post-synaptic marker proteins visualized by STED microscopy.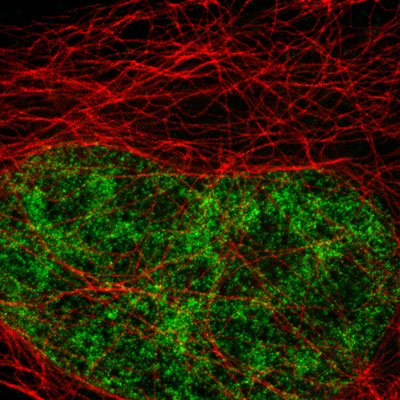 Figure 5: Active Motif's primary antibodies and fluorescent secondary antibodies in STED microscopy.
The following selected publications cite the use of and/or provide additional information about Chromeo 494:
Contents & Storage
Chromeo™ 494 NHS-Ester and Chromeo™ 494 Carboxylic Acid are supplied lyophilized and should be stored at the recommended temperature in the dark. The Chromeo™ 494 Streptavidin conjugate is supplied as a 1 mg/ml solution in PBS and should be stored at 4°C in the dark to ensure photostability.
All products are guaranteed 6 months when stored properly.