抗体
二次抗体

Active Motif's secondary antibody conjugates offer an improved method for the detection of primary antibodies. Having developed many quality primary antibodies, we found that the quality of secondary antibodies was also key to producing superior results. We therefore offer these secondary antibodies, conjugated to a number of top-quality molecules, including HRP and the Chromeo™ line of fluorescent dyes, giving you a variety of choices for detecting primary antibodies bound to their targets. To conjugate the Chromeo Dyes to primary antibodies and other proteins, we offer our complete, optimized antibody/protein labeling kits.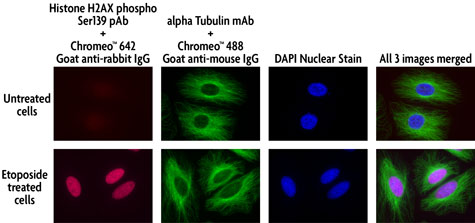 Figure 1: Multi-color staining of Phospho H2AX and tubulin using Chromeo 488 and Chromeo 642 secondary antibodies in untreated and etoposide-treated HeLa cells.
Active Motif's ATTO dye conjugates have been maximally cross-adsorbed against IgG's of a variety of species to eliminate background caused by non-specific binding. The fluorescent ATTO (STED) secondary antibody conjugatesand the fluorescent Chromeo™ 488, Chromeo™ 505 and Chromeo™ 494 secondary antibody conjugates have been certified by Leica Microsystems for STimulated Emission Depletion (STED) microscopy, as they exhibited superior staining when compared to other fluorescent antibody conjugates. The ATTO 532 (GSD) and the Rhodamine 6G (GSD) secondary antibody conjugates are recommended by Leica Microsystems for high resolution GSDIM microscopy using the novel SR GSD microscope.
Name
Format
Cat No.
Price
HRP Goat anti-Mouse IgG
400 µg
15014
¥20,000
Buy
HRP Goat anti-Rabbit IgG
400 µg
15015
¥20,000
Buy
Chromeo™ 488 Goat anti-Mouse IgG
1 mg
15031
¥39,000
Buy
100 µg
15051
¥20,000
Buy
Chromeo™ 494 Goat anti-Mouse IgG
1 mg
15032
¥39,000
Buy
100 µg
15052
¥20,000
Buy
Chromeo™ 494 Goat anti-Rabbit IgG
1 mg
15042
¥39,000
Buy
100 µg
15062
¥20,000
Buy
Chromeo™ 505 Goat anti-Mouse IgG
1 mg
15030
¥39,000
Buy
100 µg
15050
¥20,000
Buy
Chromeo™ 505 Goat anti-Rabbit IgG
1 mg
15040
¥39,000
Buy
100 µg
15060
¥20,000
Buy
Chromeo™ 546 Goat anti-Rabbit IgG
1 mg
15043
¥39,000
Buy
100 µg
15063
¥20,000
Buy
Chromeo™ 642 Goat anti-Mouse IgG
1 mg
15034
¥39,000
Buy
100 µg
15054
¥20,000
Buy
Chromeo™ 642 Goat anti-Rabbit IgG
1 mg
15044
¥39,000
Buy
100 µg
15064
¥20,000
Buy
Chromeo™ Dyes are bright fluorescent labels that replace Alexa Fluor*, DyLight* or Cy*-dyes. They are compatible with most excitation sources including diode lasers, LEDs, tungsten lamps and xenon arc lamps. The dyes have been conjugated to high-quality secondary antibodies by an optimized conjugation method, including subsequent purification from interfering substances.
Chromeo™ Dye Secondary Antibody Conjugate advantages
High intensity
Specificity under various fixation conditions
Photostability – the combination with MAX Stain™ reagents provides optimal fluorescent stability for multiple exposures and increased exposure time
Low background
Fluorescent Chromeo Dyes Secondary Antibody Conjugates enable sensitive and specific detection in fluorescence microscopy, high content screening, ELISA, FRET applications or flow cytometry. To ensure that you get the best results possible, we highly recommend that you use our secondary antibody conjugates together with our MAX Stain™ Immunofluorescence Tools, as those components have been formulated to optimize the performance of the Chromeo™ Dyes.
To receive more detailed information and application data about individual Chromeo dyes, simply click on the name of the Chromeo dye of your choice in the table below. To see a larger spectra image, click on the spectrum of your choice.
Dye
Absorption
Emission
Spectra
ε L/(mol-cm)
Stokes shift
Chromeo™ 488
498 nm
524 nm
73,000
26 nm
Chromeo™ 494
489 nm
624 nm
55,000
135 nm
Chromeo™ 505
514 nm
530 nm
70,000
16 nm
Chromeo™ 546
550 nm
567 nm
98,800
17 nm
Chromeo™ 642
647 nm
666 nm
180,000
19 nm
ATTO 647N (STED/GSD)
644 nm
669 nm
150,000
25 nm
ATTO 655 (STED)
663 nm
684 nm
125,000
21 nm
ATTO 532 (GSD)
534 nm
560 nm
115,000
26 nm
Rhodamine 6G (GSD)
508 nm
558 nm
116,000
50 nm
Table 1: Properties of Active Motif's Fluorescent Antibody Conjugates.
Next to the spectral properties of the dye and the quality of the secondary antibody, the quality of a fluorescent conjugate is influenced by the dye-to protein ratio, the conjugation method and its purity. All Active Motif Secondary Antibody Conjugates have been prepared by an optimized conjugation protocol making the fluorescent secondaries brighter and lowering the fluorescent background. Active Motif antibody conjugates have been tested in various applications including flow cytometry and fluorescent microscopy where they have shown to work with high efficiency and specificity under multiple fixation conditions.
Active Motif Fluorescent Secondary advantages
Unrivaled fluorescent intensity
Low background
Limited photobleaching
High Specificity
Flexibility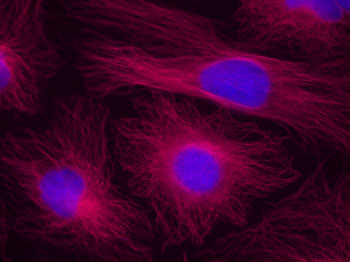 Figure 1: Chromeo 642 staining in HeLa cells.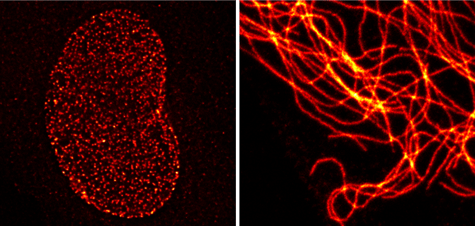 Figure 2: Chromeo 488 antibody conjugates in STED microscopy.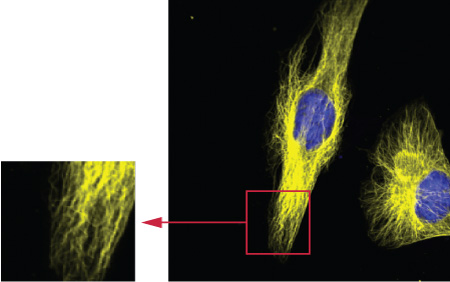 Figure 3: Tubulin staining in HeLa cells, analyzed by confocal microscopy using the 544 nm line of the HeNe laser.
The Fluorescent Secondary Antibodies have been cited in the following publications:
Contents & Storage
HRP conjugated secondaries are supplied as 400 µg of antibody at a concentration of 0.8 µg/µl, in 30% glycerol. Store the antibody at -20°C. These products are guaranteed for 6 months from the date of arrival.
The Chromeo™ conjugates are supplied as 1 mg of antibody at a concentration of 2 mg/ml. The ATTO and the Rhodamine 6G conjugates are supplied in 200 or 35 µl aliquots in PBS. For short-term storage, the conjugated antibody should be stored at 4°C protected from light. For longer-term storage, aliquot the antibody and store at -20°C. Avoid subjecting the antibody to repeated freeze-thaw cycles. These products are guaranteed for 6 months from the date of arrival.
To ensure photostability of Chromeo 488 under all experimental conditions, one aliquot of MAXfluor™ Mounting Medium for use in fluorescence microscopy is supplied with Chromeo 488 conjugates. This will provide optimal fluorescence stability and anti-fading during long-term storage of your mounted slides. MAXfluor Mounting medium should be stored at 4°C.
*All trademarks are the property of their respective owners.